Memorial Day. A day set aside to honor those who have served and given their lives for our country. It's not Veteran's Day, where we honor those who are alive and have/are serving our country, today is a day to remember our dead… those who wrote a check with their lives to fight for our country.
This past year we took the kids to Washington DC for a few days. They were finally old enough to start learning about our past wars and country's history. With each site we took them to, we made time to answer their questions and explain, still in simple terms, what each monument stood for and the historical reason for its existence. Needless to say, they watched people place flowers, notes, medals, etc. at the Vietnam Veterans Memorial, asked about the statues of soldiers representing a squad on patrol at the Korean War Veterans Memorial, solemnly walked around the Vietnam War Nurses Memorial (and got mad at some other kids who started to climb on it), and relaxed and took in the enormity of the World War II Memorial. I was proud of them and the respect they gave each and every one of those sites. BUT, I am not done. Before we left DC on our last day, we made it a point to take them to Arlington National Cemetery. I felt strongly about making this part of our trip for a few reasons;
1. The kids needed to see it.
2. I wanted them to experience the Tomb of the Unknown Soldier, specifically.
3. My husband and I hadn't been there since we had first been married.
4. MOST IMPORTANTLY, my husband actually knew some people buried there now and he needed to pay his respects to his fallen friends.
The kids, especially my oldest, felt the need to stay for a very long time at the Tomb of the Unknown Soldier. She was mesmerized by the respect, quiet, and routine that was a constant there. The kids were able to witness a wreath laying and a changing of the guard. My husband and I seriously had to pull them away from it all so we could move on to the grave sites that we wanted to see before we needed to return home.
Since this was the 1st time we (or I should say, my husband) knew 2 people buried at Arlington, we were able to use the cemetery's website to find the burial sites. It was a bit of a walk for the kids, but they knew it was important. As we left the crowded areas of the Unknown Soldier and started to see more of the grounds, we witnessed a couple of funerals coming through, each with a horse drawn carriage carrying the caskets. The children listened to Taps being played in the distance and a 21 gun salute. They saw a young military man saluting at a grave and, at another, a woman placing herself on the ground and touching the gravestone gently. They asked about the various graves we were passing, especially as we entered the area for the Afghanistan War. Finally, they witnessed their father try, unsuccessfully, choke back tears for his lost friends. I silently said prayers for their souls to be at peace and that strength and comfort to be granted to their surviving family and friends.
So, what are you doing this weekend? Have/Did you set aside time to remember our lost service members by attending a parade & memorial service, go to a special mass for Memorial Day, go to a grave site to visit buried service members, etc.? Are you showing your children respect for our country and the importance of this day… the "why" we actually have a long weekend to "celebrate the unofficial start of summer?" If you didn't do something along those lines this year, I am asking you to think about a new tradition for next year… it's the least you could do out of respect for those who died for this "holiday."
Before you go, Trixie was kind enough to make a freebie in remembrance of this solemn weekend. It was made with her newest kit, American Heroes.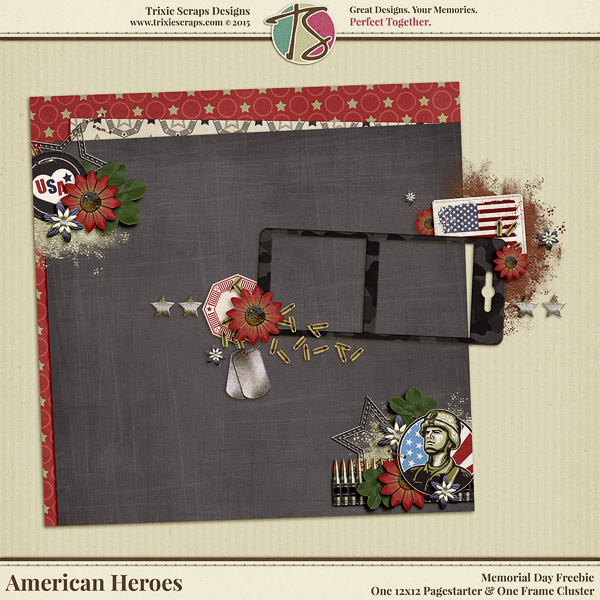 Have a good rest of your weekend!