Hi, I'm Tracy, aka Trixie, the designer behind Trixie Scraps Designs…
I'm a 40-ish mama to a precious son, finally welcomed into the world after close to 15 years of infertility. Creative to my core and married to shutterbug/worry-wart/big idea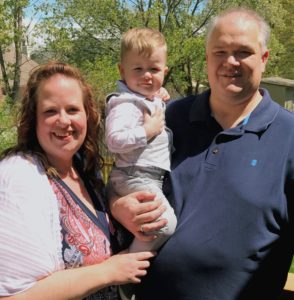 man/best guy ever, Erick since late 2002. We currently live in a Kansas City suburb… but those who know me best know I'll always be a Jersey girl at heart.
I'm a homebody and entrepreneur by nature, a huge reality TV junkie, and blessed to be a child of God. Most days I wear my sassy pants and my heart on my sleeve. I love to crochet and I love music – I'm learning to play the piano, which has been a lifelong desire.
My journey into designing…
I began scrapbooking in 2003, after I attended a Creative Memories class and decided to start on an album of photos from our honeymoon in Mexico. I was instantly hooked and signed on as a consultant not long after. By 2007, Creative Memories was releasing their digital scrapbooking software and I quickly made the switch. After a class in Chicago with Jessica Sprague in March 2008, I officially switched to Photoshop and I've never looked back! By later that year, I was teaching myself how to design digital scrapbooking products. I soaked up every tip, tutorial and video I could find until I felt more comfortable with Photoshop. Then, I had an opportunity to participate in a new designer contest in 2009. After being named a finalist, my career as Trixie Scraps began!
The journey continues…
Within a year of opening shop, I met Connie Prince and we became fast friends, truly "sisters from another mister." We have launched a design brand together known as North Meets South Studios. Then, I was ready to branch out further and in 2014, I began the process of extending my skills to include print and web design for small businesses and solopreneurs and launched a sister company, Trixie Media. And, after many requests to license some of my papers and other products for commercial use by the teacher market, I launched another sister brand, Trixie Loves Teachers.
Whew!! That's a lot! But one of the greatest blessings in life is to wake up in the morning and be able to say that you truly LOVE going to work. My passion for digital design fuels me and drives me towards creating things others will enjoy – I hope to count YOU in that club! Drop me a line and let me know how I can help.
---
More information on each of my brands and partnerships is available by following the linked logos below.