Early on in my career as a digital scrapbooking designer, I opened up a store on a website called Scrap Matters. That store is now closed and gone, but I have the best keepsake from my time there that anyone could ask for… my best friend, Connie Prince!
A Friendship Blossoms…
Soon after I opened there, Connie came and opened up a store there for her own products. And now, as I look back and try to remember how we started chatting, I can't even remember. Though she is from the South and I from the North… though we both laugh at each other's "accents"… and though we are different in lots of ways, one thing I know for sure is that we are kindred spirits. We became fast friends and found we were able to talk to each other about just about anything. We make each other laugh, we offer support and advice (and not just about work, but about LIFE) and in each other, we have a "no judgment" sounding board for those days when you just need someone to listen and love you anyway when you're spouting off and being a terrible person. Let's be honest, we all have those days, right?
Connie and I call each other our "sista from anotha mista" – and I more grateful to call her my best friend than I can even describe to y'all. And yes, I think I started saying things like y'all and "welp" because of her. So, when the occasional Southern turn of phrase comes flying out of my mouth (or fingers), y'all can blame her!
Our First Collaboration…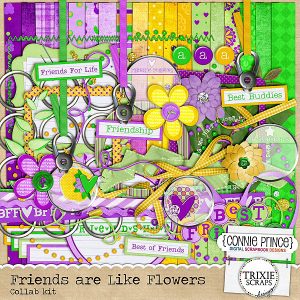 Our very first collab together was called "Friends are Like Flowers" – and jeez louise, was it ever bright! But that's really not the point. The point is we had so much fun creating it, that we knew we HAD to work together again… and again… and again. We think so much alike that working together is never a hassle – I always love the palettes Connie throws my way and she likes what I come up with, too. In many ways, we complement each other's strengths and I often feel that my collab work with Connie is some of my best! In light of how much fun we were having, it wasn't long before we started talking about forming a collaboration brand.
North Meets South Studios is born…
Since our friendship was the blending of two people from two geographic regions — we thought, why shouldn't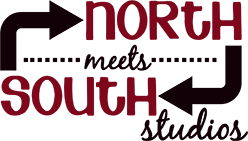 our brand be, right? We picked out some colors for our brand and I got to work on a logo. As often happens with our collab kits, it all just "came together" and soon after, North Meets South Studios was born.
Our Products…
Over the years, we've completed dozens of beautiful and fun collab kits and template pack bundles together. Here's a small sample of them – you can find all of our North Meets South Studios products in my store. You can count on more beautiful additions to our product line for years to come because we love working together!