Hello and HAPPY DSD 2021! Whew… how is it already October? I don't know about you, but three-quarters of this year has just run away and disappeared on me. I can hardly believe we are just weeks away from the start of the fall holiday season. But, celebrating DSD every year starts to get me in the spirit, and I hope it does the same for you.
There is SO much going on through all of digiland this weekend. I appreciate you taking the time to check out my little corner of the web. Read on for all the details, including our storewide sale, new goodies, grab bags, freebies and more!
DSD 2021 Storewide Sale
First off, everything* in my GingerScraps store will be 50% off, October 1st through October 7th. (*bundles and grab bags excluded) If you've had some things on your wishlist for a while, now's your chance to grab them for a good deal. You can skim the image below for a peek at all the other awesome stuff going on at GingerScraps this weekend, including the mega collab you'll get with a $20 purchase!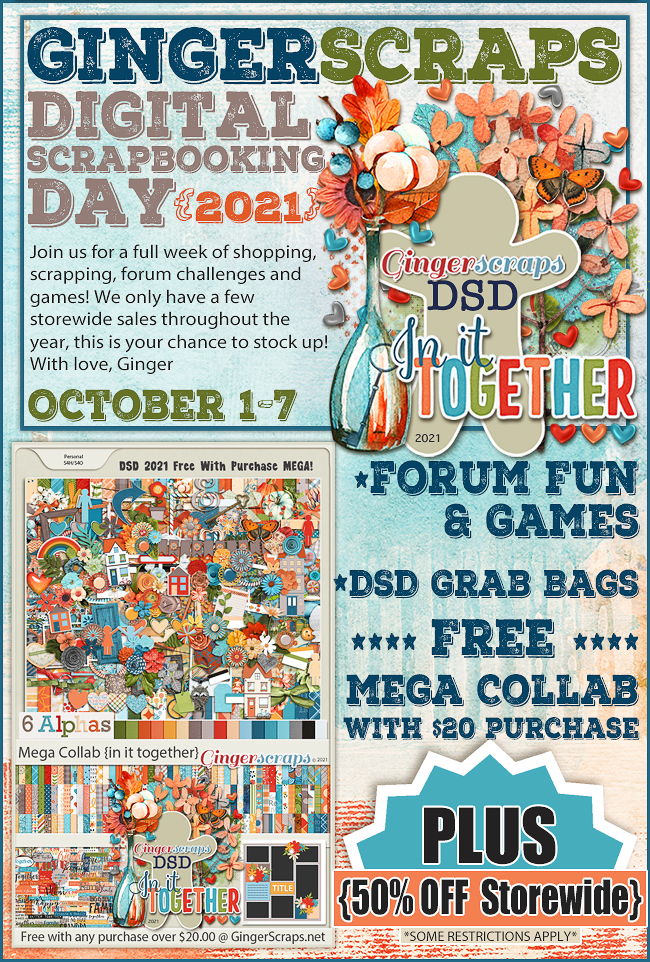 Grab Bag Sale
I have THREE different "Make Your Own" grab bag deals for this DSD event. So, whether your thing is kits, templates or the whole kit and kaboodle (bundles!), you'll find a grab bag that fits your style. I've never offered a bundle grab bag before and I'm hopeful you all will love getting over $80 of product for just $20. Each grab bag is linked below: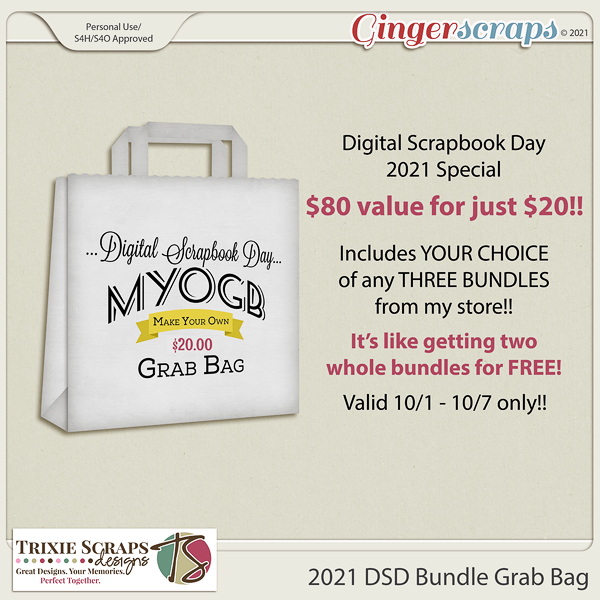 October 2021 Buffet Sale
The Buffet Sale for this month also begins today. I have a super fun Disney-inspired collection for you this month called "One Magical Night." Here's a little peek at it – if you'd like to see this collection up close and personal, please go read this post. Or, just go shopping! You'll find the whole bundle in my store at GingerScraps.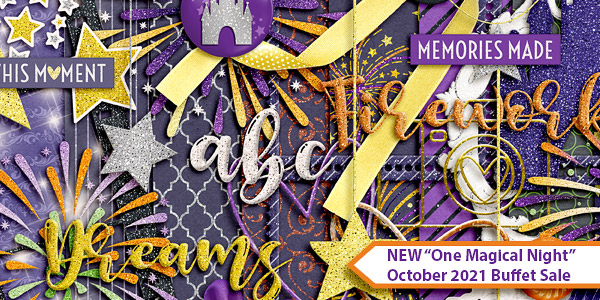 DSD Freebies!
I have two opportunities for you to collect a freebie this DSD celebration. First is a fun fall and friendship kit that my gal pal Connie Prince and I designed called "Falling for Friends." In order to collect ALL of the pieces of this super cute kit, you need to visit my Trixie Scraps VIP group, Connie's group Club Connie Prince, and our brand new group for NMSS, the North Meets South Studios Hangout!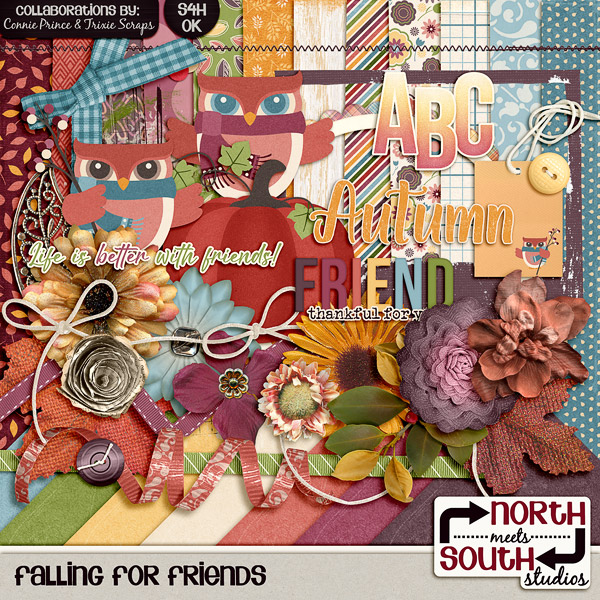 If you love templates, I have a free one posted in the GingerScraps forum, along with my challenge for DSD – the "Use What You Bought" Template Challenge. Head on over to the forum to download this fun page template. I hope you'll play along with the challenge, too!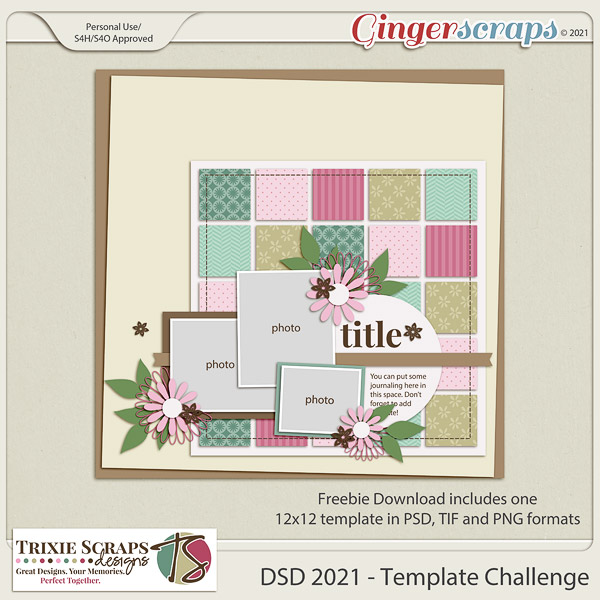 Live Chat Fun!
Last and certainly not least, mark your calendar for Saturday night, October 2nd at 10pm ET – Connie and I are resurrecting our always popular, always hilarious game of DSD Truth or Dare – but, this time it will be LIVE!! We'll be hosting a live chat and game on the GingerScraps Facebook Group. So pour yourself a drink and come join us for the hijinx!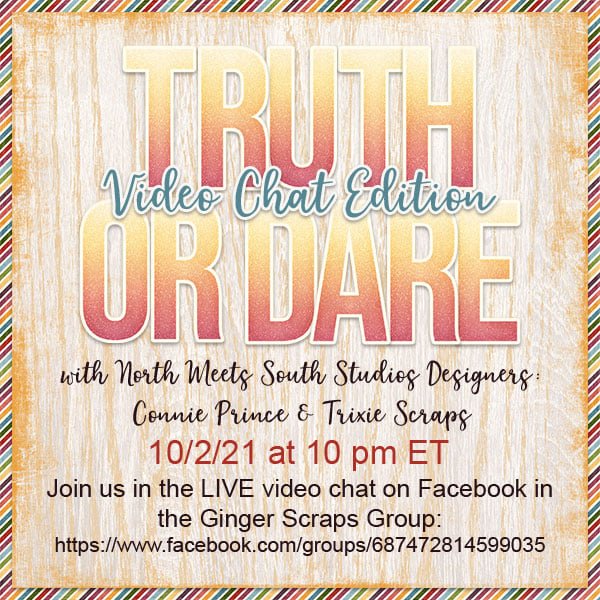 Whew!! That's a LOT of fun and sales and scrappy goodness to digest. If you've read this far, you are amazing! I have done my level best to plan some great things for DSD 2021 and I hope you enjoy all of it. As always, I want to express my appreciation for your support of my business all these years. I wouldn't be here without YOU, so thank you, thank you, thank you!