As has become the tradition for us, North Meets South Designs is in the designer spotlight all this month over at Ginger Scraps.  That means the March 2022 daily download freebie kit AND a storewide sale all month long, too! Connie and I had so much fun making this kit for you.
March 2022 Daily Download Freebie
If you follow along on the Ginger Scraps blog, all this month, you will be able to collect all the pieces of our new freebie kit. It has a fun springtime palette that is sure to chase away those sour winter vibes! Here's a sneak peek at it: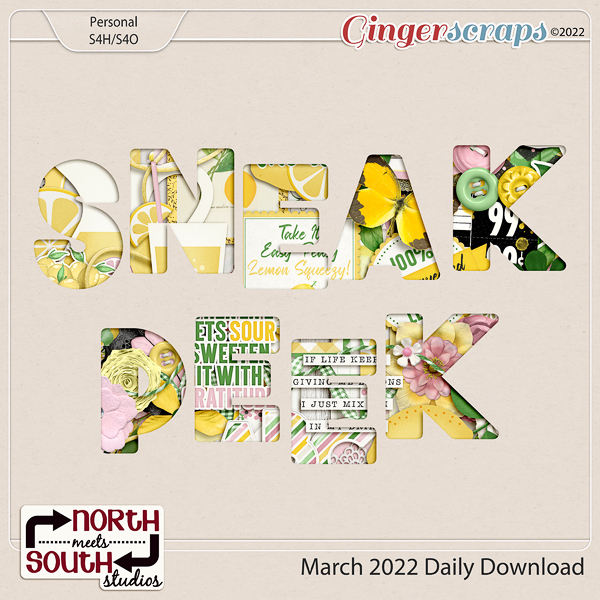 Storewide Sale
As part of our spotlight, we have a sale for the month of March, as well! Enjoy 30% off all your purchases in ALL THREE of our stores! That's right, everything from my store at GingerScraps, from Connie's store and from the North Meets South Studios store is on sale until March 31st. Please note, bundles are already discounted and excluded from the sale.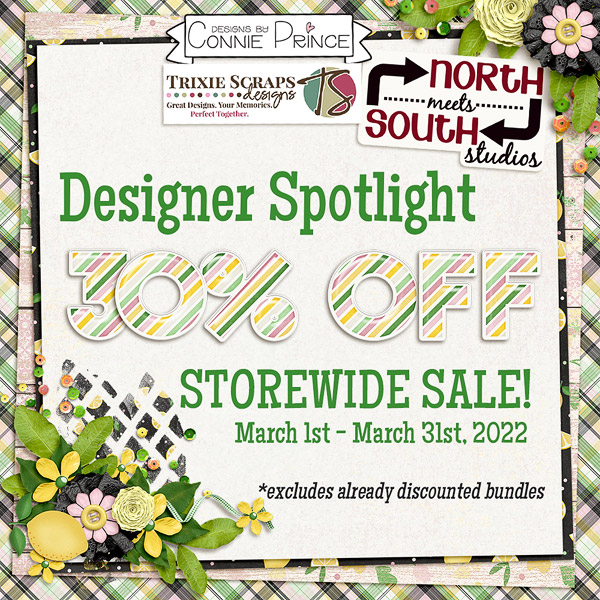 Just yesterday, I had a Facebook memory pop up and it said something like "I'm excited to be working with a new designer friend on our first ever collaboration." That memory was from 13 years ago and that new designer friend was none other than the fab Connie Prince! I am so thankful for the bond and best-friendship we've developed over the last 13 years. She is the ying to my yang, the South to my North, and the best gal pal on the planet. It's her birthday next week (March 8th), so leave her some birthday love in the comments below or in her group on Facebook!
Enjoy the daily download this month – and my thanks in advance for shopping with us and supporting our small businesses! If you need any help at all, please feel free to reach out. Happy Scrapping!