April Fools Day Sale
Happy April Fools Day! Stopping in here to make sure you know that I'm having a 60% off "No Foolin" April Fools Day Sale at both my GingerScraps and Scrap Girls stores today and tomorrow ONLY – that is April 1st and April 2nd, 2022. Note, this sale does not apply to any purchases from the store here on my personal site – only at the stores linked above.
Act fast to snag all* your favorited and wishlisted items for a steal! And yes… I've even included my brand new Buffet products for April in the sale!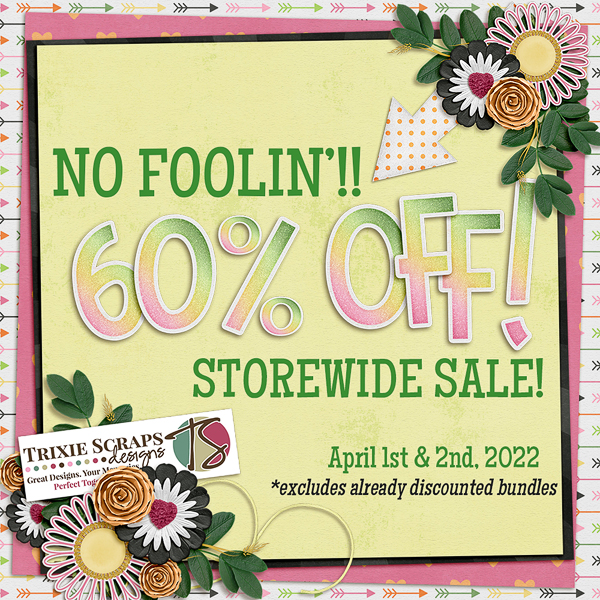 * Please note, I have excluded some of my already reduced bundles from this sale. I have specially priced the April Buffet bundle to take advantage of the sale, however. If you love it, now is the time to snag it!
I must admit, I've never been a huge fan of this holiday. For many years, the "I'm pregnant" pranks that would float around social media were very painful for me, as we went through all our years of infertility. Are you a fan of April Fools Day? If so, what do you like about it? Maybe you can convince me it's fun? LOL. For now, I'll enjoy it with a big sale so my awesome customers get a good deal!
Got Pranks?
I am a fan of a good prank, though, I have to admit. I recently started following a TikTok account from a couple named Lindy & JLo (@mamalindy) and I am telling you, the pranks they pull on each other keep me laughing so hard! If you check them out, let me know what you think of them in the comments below. Or, link me to your favorite TikTok prank wars. I could always use more laughter in my life!
Thank you, as always, for shopping with me! If you have any questions, please drop me a line and I'll get back to you ASAP!