Hey there, digiscrappers! I have a brandy-new collection out this week and I'm super excited to show it to you. As you probably cannot escape, this year is a major election year in the United States and, well… it's been quite a bit crazier than it even normally gets. I've been voting myself for years, but I don't think I've ever been quite so engaged and invested before this year. Maybe that means I'm old now?? lol… but seriously, I had been wanting to document some things about this historical election year and, when I went looking, there is really next to nothing on the market when it comes to election-themed scrapbook kits. So, I decided to fix that and Get Out the Vote was born. And, it's 40% off from now until October 20th. I really hope you will love it and that it will serve a need for you all!
Time to Get Out the Vote
Check out this kit – it is loaded with 20 papers, 54 embellishments and a full alpha. Although obviously election-themed, there's enough in here to make it suitable for trips to national monuments, naval yards, presidential libraries and more. Plus, it would be perfect for student elections, and general patriotic pages, too!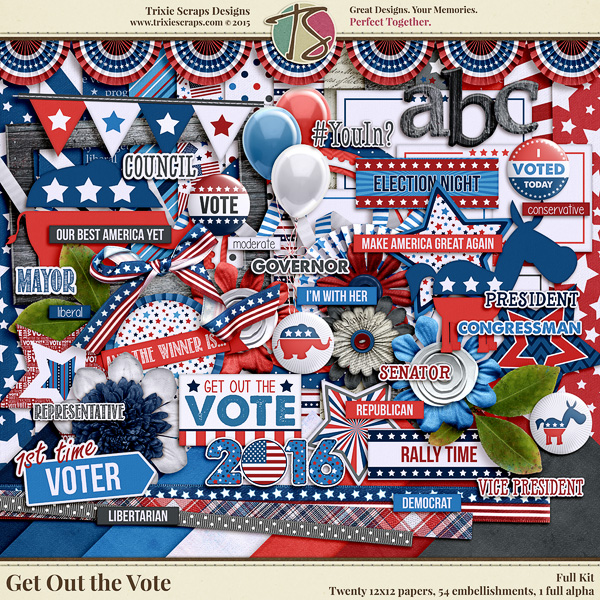 Add-On Packs
In addition to the kit, I have added coordinating cardstock and bonus papers to the collection, plus some unicase bonus alphas, fun wordart for great page titles, a set of coordinating pocket scrapbooking templates, a decorative pack of 3×4 pocket cards, beautiful quickpages and a handy set of timeline covers, too! Note, all of these products are also available in my GingerScraps store.
Creative Team Inspiration
My Scrap Stars and the GingerScraps CT made some pretty amazing layouts with this collection – here's just a few of them, to inspire you with different ways you could use Get Out the Vote. Thanks for stopping by and if you're in the US, don't forget to vote on November 8th! — Trixie