Welcome February and a new Buffet Sale at GingerScraps! This month, I've created a super cute Valentine's Day-themed kit, complete with lots of hearts, cute little sheep, and lots of love. Ewe Loves Ya? is sure to put you in the loving feeling! All of these pieces will be on sale 50% off now through February 5th… that means you can get the kit for just $2 and each of the add-on packs for just $1 each! (Note, the prices increase to $4 for the kit and $2 for the add-on packs on February 6th for the remainder of the month).
Ewe Loves Ya? I do!
Check out this kit – it is loaded with 18 papers, 55 embellishments and a full alpha. I've also broken the kit into two separate packs (just papers or just alpha/embellishments) if either of those would be your preference: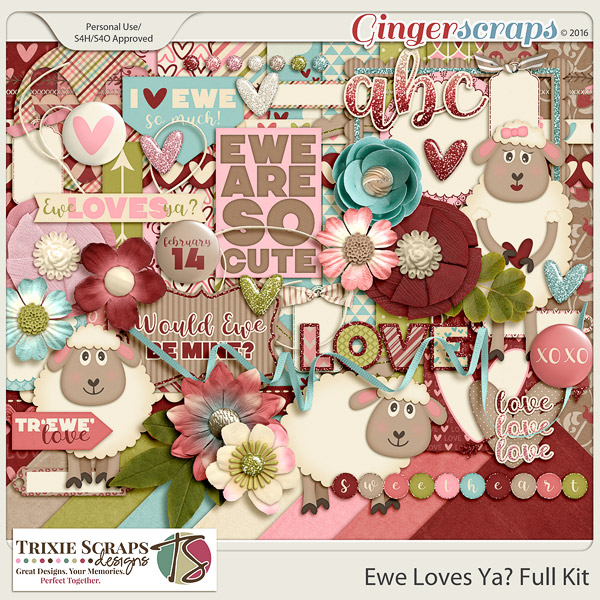 Add-On Packs
In addition to the kit, I have added coordinating cardstock and bonus papers to the collection, plus some useful bonus alphas, adorable wordart for great page titles, a great set of coordinating templates, super cute pocket cards, beautiful quickpages and a handy set of timeline covers, too!
Newsletter Subscriber & Facebook Freebies
If you happen to subscribe to the Trixie Scraps Scoop – my new release newsletter – you'll be receiving this pack of coordinating glitter papers when this week's edition of the newsletter goes out. Make sure you're subscribed so you don't miss out! Also, click on the cute frame cluster image below to download that freebie from my Facebook page! Thanks for checking out this new collection – I hope you love it as much as I do!