Welcome to the October 2021 Buffet Sale. This month's palette just about screams Halloween, but I really wanted to take things in a different direction. And, since it's been a while since I've done a Disney-inspired collection, that's where my mouse led me… pun intended! The result is my new One Magical Night collection and I think you'll find that you can use this collection as easily with Halloween photos as you can with the intended subject. Check it all out below, it is now on sale at GingerScraps during the October Buffet. And by the way, if you want to read up on all the other Digital Scrapbook Day news, make sure to visit this post, too!
October 2021 Buffet – One Magical Night Collection!
I intentionally leaned into the darker colors of this month's palette to give this collection a night-time feel, but then added lots of glitz for contrast. Plus, when you are scrapbooking photos of fireworks, you need lots of SPARKLE to go with them! The result is a collection that will work with elegant photos as well as whimsical ones. And of course, it will go perfectly with all your magical park photos, too!
The full kit has 20 papers, 45 elements and a full alpha. It will be $2 and each of the add-on packs just $1 each from October 1st until October 7th. On October 8th, prices increase to $4 for the kit and $2 for each add-on pack, followed by my regular prices on November 1st.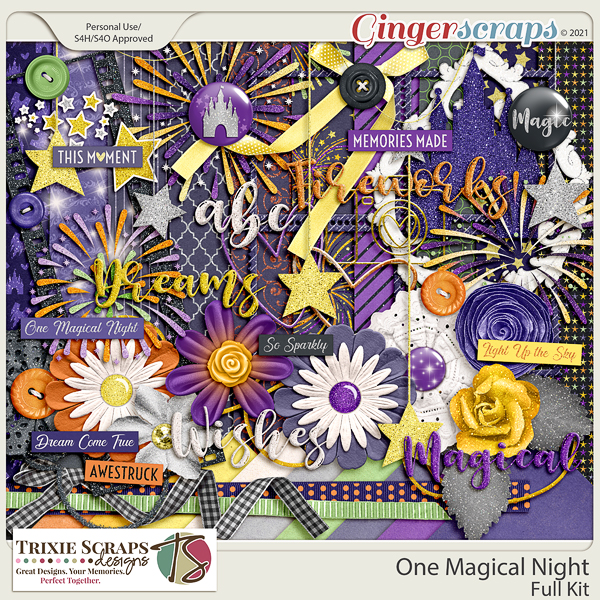 Add-On Packs
The collection includes coordinating cardstock and bonus watercolor papers, plus a fun pack of bonus alphas. For extra sparkle on your pages, don't miss the glitzy edges and snag the pack of pocket-style cards to add some graphic interest to your pages. To help you create pages quickly, I've created both a coordinating set of page templates and a beautifully detailed set of quickpages! Lastly, if you love it all, grab the value bundle. (Note, the quickpages are not included in the bundle.)
Creative Team Inspiration
Here's a look at just a few amazing pages from my Scrap Stars! First, a page created by Stacy showcasing Rapunzel. Everything about this page sings to my heart — other than Tangled being my absolute FAVE, I also love the clustering and the song lyrics in the background. Jennifer's page shows off how perfectly the collection can work with Halloween photos and Stacy's second page highlights exactly what I envisioned as I worked on the kit – the spectacular fireworks at the end of a magical day at the most wonderful place on Earth! Finally, Bree's page combines the best of both worlds – Halloween photos AT Disney! So cute and fun!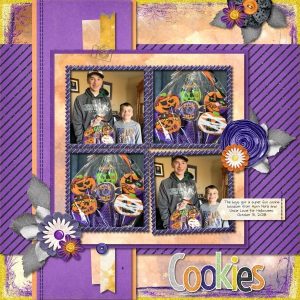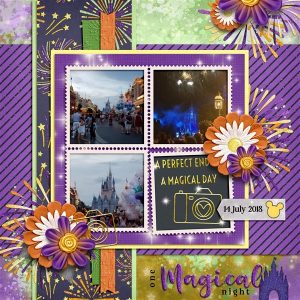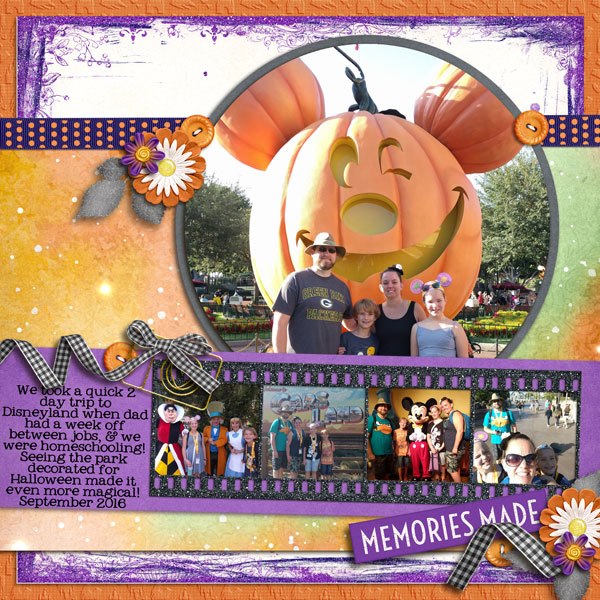 Thanks for stopping by and reading this post and more importantly, thanks for supporting my business this month! If I can ever be of help to you, please stop by and leave me a note so I can help! — Trixie