It's time for a new Buffet Sale at GingerScraps! Once again, the theme I worked with this month was directly requested by my Creative Team and I had a lot of fun pulling this one together. Christmas kits are some of my favorite themes to design on and So Ho Ho Ugly is no exception. I was a little late getting the collection locked and loaded this month because I came down with a rotten cold right after Thanksgiving – so I've extended the $1 per pack pricing (and $2 for the full kit) until December 11th. Please note, the prices increase to $4 for the kit and $2 for the add-on packs from December 12th through the 31st.
Let's Get SO Ho Ho Ugly!
The kit is loaded with 20 papers, 43 embellishments and a full alpha. If you prefer, you can also choose from just the papers or just the alpha/embellishments, as well: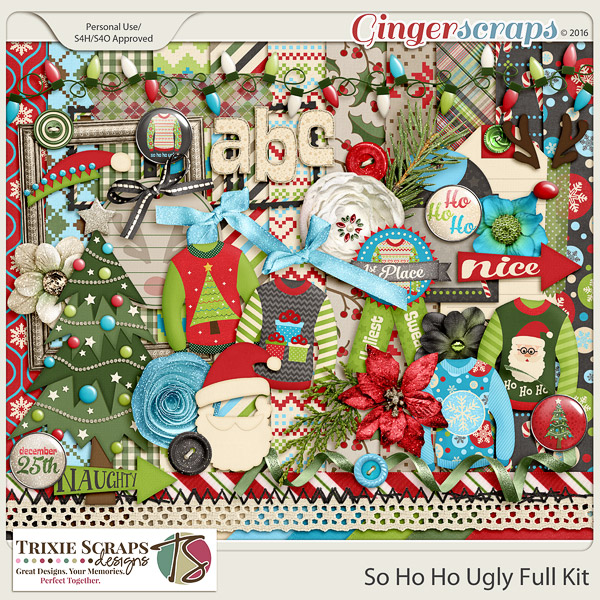 Add-On Packs
The collection includes coordinating cardstock and bonus papers, plus some useful bonus alphas and a cute pack of 3×4 pocket cards for project life scrapbookers. Later this week, I'll be posting the quickpages, wordart and timelines for you, as well – watch for that news!
Creative Team Inspiration
My Scrap Stars have turned out some super cute layouts with this collection. I hope they inspire you with different ways you could use So Ho Ho Ugly! Thanks for stopping by and reading this post and more importantly, thanks for supporting my business this month! — Trixie