It's time for a new Buffet Sale at GingerScraps! This month, I filled a frequent request from the gals on my creative team. They've been begging for a new Thanksgiving kit with pilgrims and natives and the colors this month were just perfect for this theme. So, I introduce to you, The First Thanksgiving! All of these pieces will be on sale 50% off now through November 5th. That means you can get the kit for just $2 and each of the add-on packs for just $1 each! (Please note, the prices increase to $4 for the kit and $2 for the add-on packs from November 6th through the 30th).
Celebrating The First Thanksgiving
Check out this kit – it is loaded with 24 papers, 45 embellishments and a unicase alpha. If you prefer, you can also choose from just the papers or just the alpha/embellishments, as well: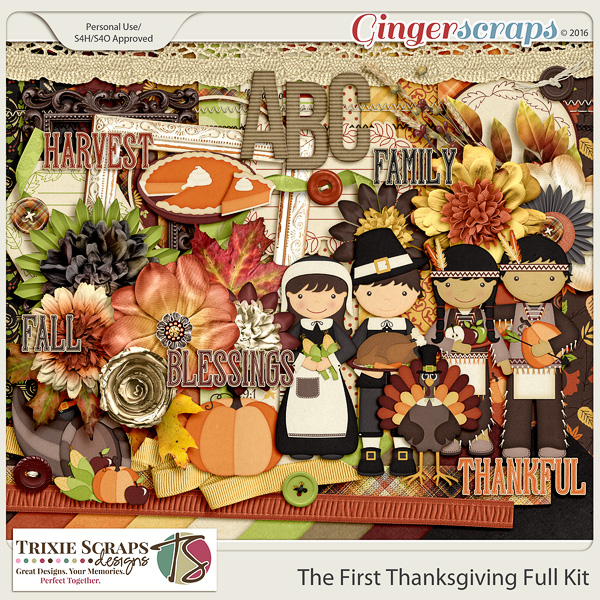 Add-On Packs
The collection includes coordinating cardstock and bonus papers, plus some useful bonus alphas and adorable wordart for great page titles. You won't want to miss the great set of coordinating templates, to help you complete pages quickly. Rounding out the collection, I've included a cute pack of 3×4 pocket cards for project life scrapbookers. As always, I'm also offering some beautiful quickpages and a handy set of timeline covers, too!
Creative Team Inspiration
My Scrap Stars and the GingerScraps CT made some beautiful layouts with this collection. Here's just a few of those layouts and I hope they inspire you with different ways you could use The First Thanksgiving. Thanks for stopping by and reading this post and more importantly, thanks for supporting my business this month! — Trixie