Welcome to another challenge Thursday, today we are going to scraplift Tracy! Yes our lovely kit designer is an equally lovely page designer so we are going to copy her style a bit. Easter Blessings was made with the kit called His Glory.
Also, made this page in a youtube video, if you wanted to watch her in action you can do that here and you can catch her various videos on her channel.
Tracy's Layout
My Scraplift
I love the frame in the center of the page and all the little paper bits so that's the look I wanted to lift. I made some of the paper cuts, but a lot of the inspiration came into play with all the pictures I piled onto my page. I had so many pictures from our drive through Gettysburg that it was so hard to make a single page for that day (on a side note: I really suggest not doing a single day at Gettysburg, there is so much to do there). After piling on my pictures I moved the title to the bottom since it seemed to lay better down there. Here is my final product of my lift/inspiration from Tracy's page.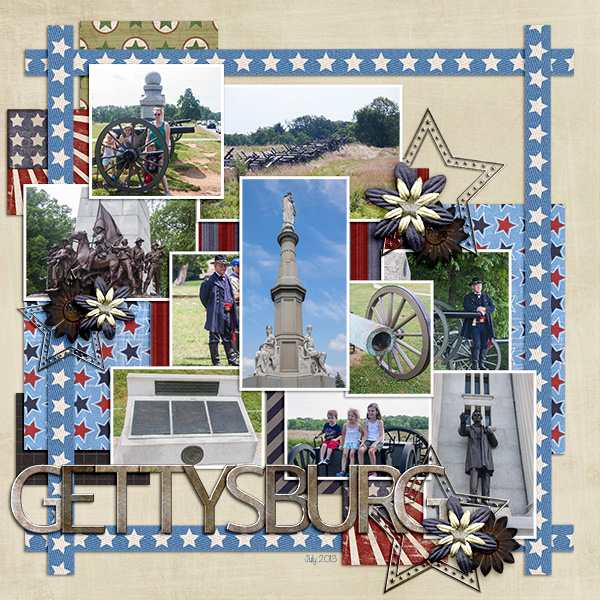 I love that you can "lift" someone's page, but your page could look totally different depending on you take your inspiration from their page. I used a new kit called American Hereos and I totally love this kit. It's perfect for any military pages or any patriotic pages that you could come up with. You can link us up to your layouts in the comments if you choose. I hope everyone enjoys this challenge and has a fabulous weekend.