It's one of my favorite days of the year – interNational Scrapbook Day 2016! For the last couple weeks, I have been HARD at work, cranking out some beautiful new products for my stores and I'm excited to show them to you. So let's get going!
Before I get to that, I thought I should let you know that my entire store (both here at TrixieScraps.com and at GingerScraps) is on sale 50% off now through May 12th. PLUS! I have a couple Special Chats/Events this weekend, too – you can check them out on the image below.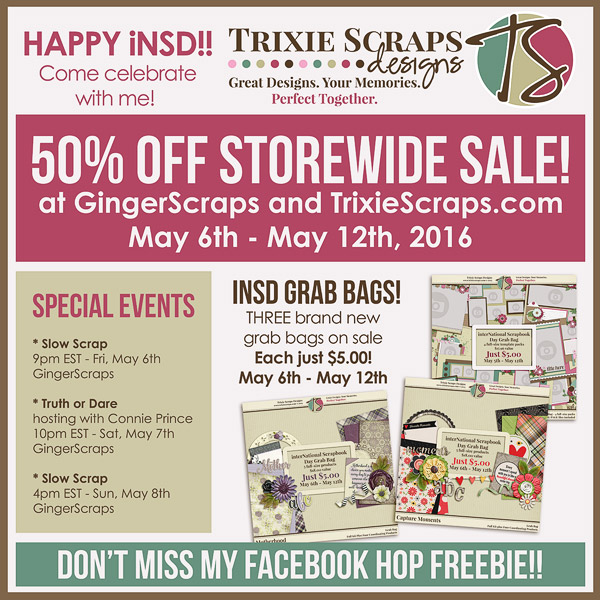 Now, moving on to the new goodies!! I have three PACKED FULL Grab Bags for you, each for just $5. The first is my ever-popular template grab bag. In this one, you get 4 full-size packs and my team has been telling me they are some of their favorite templates I've ever done. It's definitely worth snagging this one before the sale ends. (It's also available here at GingerScraps).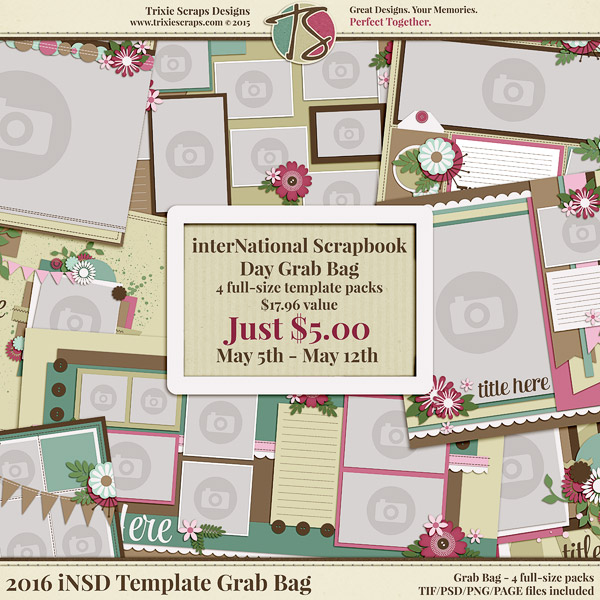 The next grab bag is in honor of tomorrow's Mother's Day holiday. It's been a while since I've had a Mom-themed kit in my store and I thought this was the perfect time and excuse to create a new one. This kit is done in various shades of purple, some lime green and charcoal. It is so soft and pretty, with lots of vintage touches. Just perfect for celebrating the amazing endeavor that is Motherhood. This grab bag includes the full kit, coordinating cardstock and bonus papers, a super cool script bonus alpha in several colors, and a useful pack of pocket scrapbooking cards, all for just $5.00! Each of the packs inside the grab bag is fully revealed in my stores.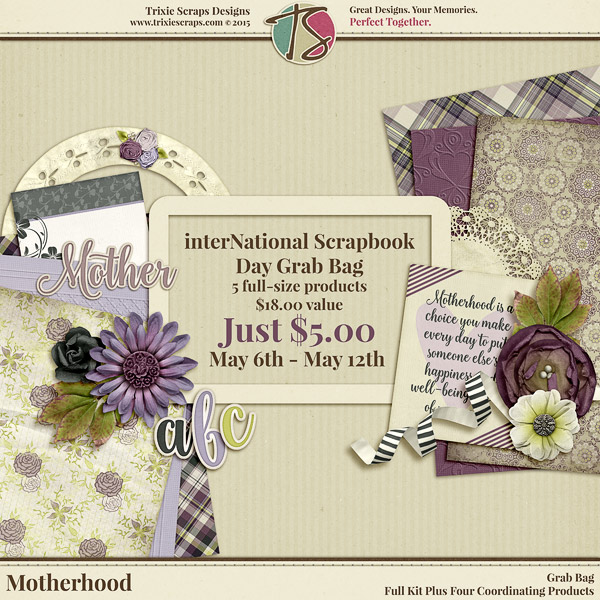 If you love that grab bag, of course there are a few extra goodies that coordinate with it – don't miss the wordart, quickpages and timelines. The Motherhood grab bag and coordinating products are also available at GingerScraps.
The third grab bag is a brighter, more summery "everyday" kind of collection called Capture Moments. The theme of this bag was suggested by my Creative Team member Shauna – she thought that with iNSD coming up, a collection about celebrating and documenting memories was just the thing many people would dig – and I agreed! I love the bright raspberry red, coral, green, yellow and black color combination in this collection. Plus, the little camera icons and chipboard flowers are especially cute. You can't go wrong! Once again, this grab bag contains the full kit, coordinating cardstock and bonus papers, a fun foam bonus alpha in several colors and adorable pocket scrapbooking cards, as well. And again… just $5.00 until May 12th!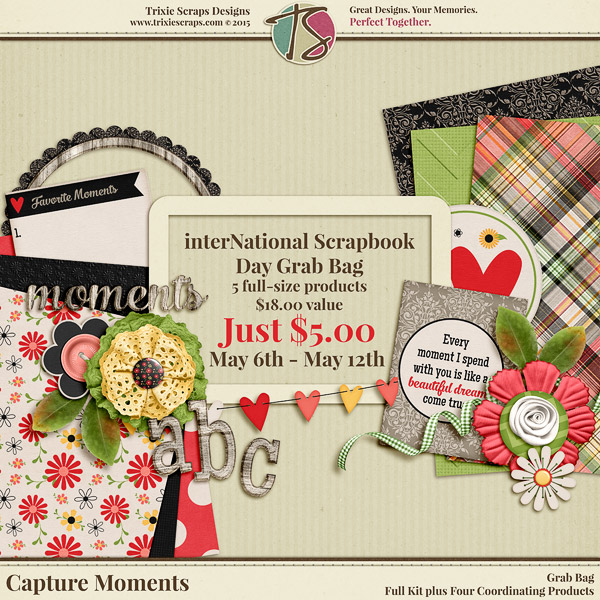 And, of course… there's coordinating products for this one, too. Don't miss the wordart, quickpages and timelines. I especially LOVE those timelines and they'll be gracing my personal Facebook profile throughout the summer, no doubt. The Capture Moments grab bag and coordinating products is also available at GingerScraps.
There you have it! My iNSD news, all wrapped up in a big 'ole bow. Before I go, I did want to let you in on two other important pieces of news. First, if you haven't yet heard, I have a brand new VIP Group on Facebook – I will now be hosting all of my giveaways and sneak peeks on the group, plus tossing extra VIP-exclusive sales, coupons and freebies out to the members of the group. If you'd like to join, head here and I'll get you approved to join us! The Creative Team has been doing a great job of sharing their layout inspiration, as well as getting everyone chatty and having fun, so come on over and join us 🙂

The final piece of news is about the GingerScraps Facebook hop – make sure to head over to my Fan Page at some point before the end of day on May 12th to grab this template I made for you, for free. It's perfect for pocket scrapbooking – and the rest of the designers all have great templates and pocket scrapbooking card freebies for you, too – lots of fun!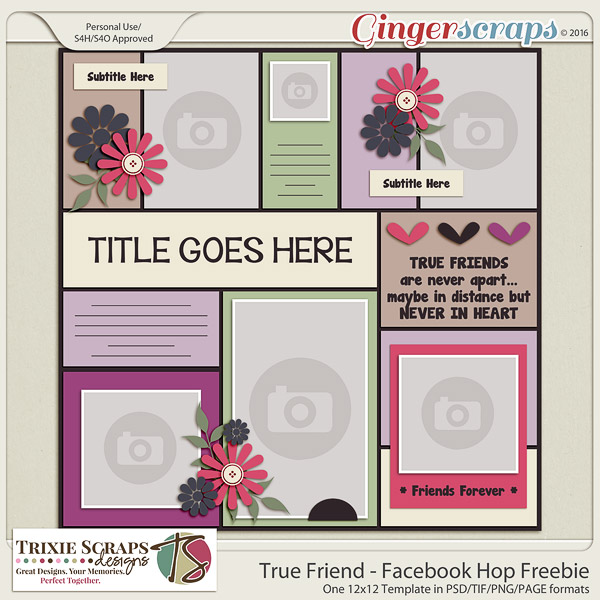 Whew, that was a lot!! Thanks for sticking it out with me this far. I hope to see you tonight at Truth or Dare with Connie Prince, or tomorrow for my (Slow) Speed Scrap, both at GingerScraps. Have a TERRIFIC iNSD and Happy Mother's Day to all those celebrating! <3 Trixie