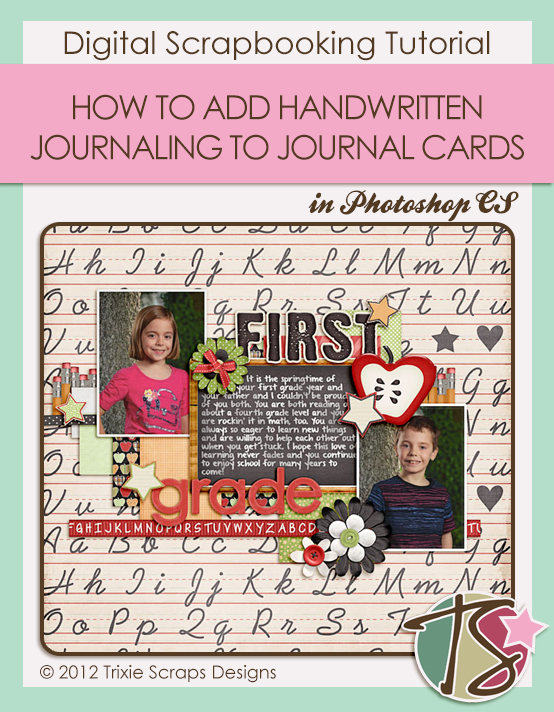 It's another Master's Monday here on the Trixie Scraps blog. I'm glad you found your way here.
Today I'm diving back into the archives at Phlearn.com to show you how to make the most of the gorgeous journal cards that are available in the Trixie Scraps shop.
Mastering the Art of Journaling on Cards
If you are anything like me, you enjoy the ease and flexibility of digital scrapbooking, but you always try to put a little bit of "handmade" into your layouts. For me, it always comes about in my font selection. I am a sucker for a good handwritten font. I will typically waver between cursive-type fonts and simple handwriting, but nine times out of ten I will choose a font that looks like it was just written onto the page. I found a tutorial over at Phlearn.com that shows us how to go one step further and create a handwritten look to our text. I am using a journal card as the base for my journaling, but you don't need to. You can follow along with the tutorial just by using your text over a background paper.
Tutorial in Action
I started with my page completely done and saved with the exception of the journaling on the blackboard in the center of the page…make sure you save it before you move on with anything! I found a font that I had in my stash that resembled writing on a chalkboard. It's called From Where You Are. Now, I did not have to transform my text layer like the tutorial shows, but I did go ahead and rasterize my type layer. I added an extra step because, well…I've lost too many layouts to not copy and hide my text layer before moving on. Oh, and save again, too! I really like the look that the tutorial helped me create with the text on the chalkboard. What do you think? I used the Apples for Teacher value bundle for this layout.
Did you try it out? Make sure you upload any layouts you do with our tutorials into the Trixie Scraps Gallery. You may just become one of our show-offs!!!