Hi and HAPPY APRIL to you! Gosh, this year is already speeding on by, isn't it? But, I'm happily embracing it because warmer temperatures have returned to Kansas City and since I pretty much hate winter… I'm a happy girl whenever it is warm enough to slip into my flip flops!
Spotlight Designer at GingerScraps
This month, I am one of the spotlight designers at Ginger Scraps and because of that, I am having a spring sale in my stores at GingerScraps and at TrixieScraps.com! You'll enjoy 40% off all your purchases from now through April 15th – happy shopping!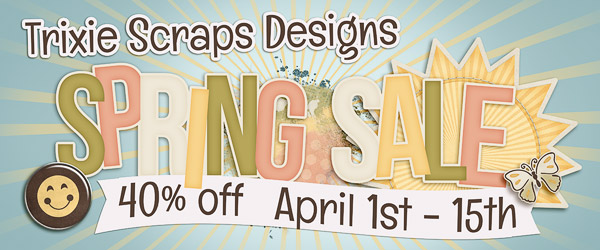 Daily Download all this month
I've also collabed with the fabulous Connie Prince on this month's Daily Download. It's been a while since North Meets South has had a new release and it was great to work with Connie again. I'm hoping it helped me shake off some of this stubborn design rust I've been dealing with. Fingers crossed!
Here's a sneak peek at this month's Daily Download kit, titled "Nature Boy." You can only collect it on the GingerScraps blog, though – so make sure you stop in there each day to snag the free download and get the complete kit!