It's another Master's Monday on our Trixie Scraps blog. I hope your prepared for some work and fun times ahead and a tip just in time for Thanksgiving!
The Gratitude Starts Here
Years ago I came across a wonderful idea just in time for Thanksgiving. I decided it'd be a great Masters Monday idea to share with you. Today I'm going to give you some ideas on creating a Family Gratitude Album.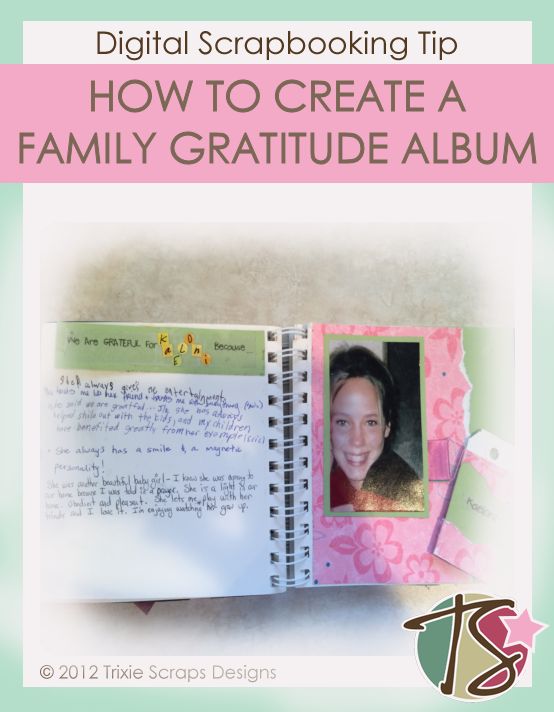 The idea behind this 'album' is to let each family member mention why they are grateful for other family members. Depending on your family this can be a large task or a small one.
I'm going to share with you a couple layouts from when I did this. Remember, my old layouts leave lots to be desired and these pages are no exception. But, it'll give you a better idea on what we're going to do.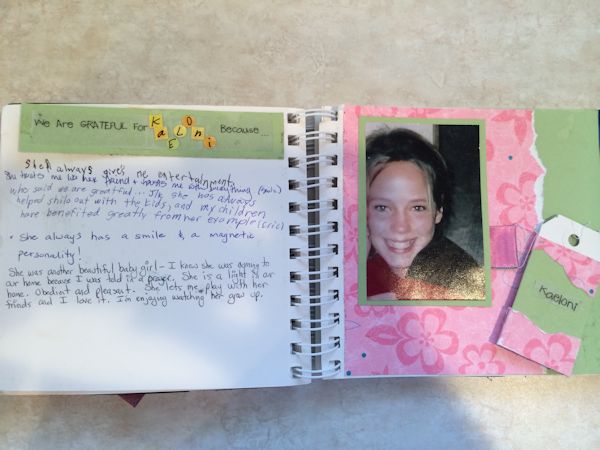 The New Layouts
As you can see, one one side of the album was where I left space for each family member to jot down their thoughts. The other side was a page dedicated solely to the person we are talking about.
Your layouts can be done however you'd like. This is your album we're talking about. As for me, I really liked the tag idea and the bubble stickers I used when I originally made the album – so I kept those elements in my new layouts. Take a look.
I created each of my layouts using Tuscan Fall. The bubble letters are Fall Dusk: Alphabits and the rope used in each layout comes from the kit Best Year Ever.
I love the updated look and that the page is now 1, instead of 2. You can also see that I left the area under We Are Grateful For…Because empty. This is where different family members will make their notes.
Creating Your Own Family Gratitude Album
With Thanksgiving quickly approaching us in the U.S., I thought this was the perfect time to do this. Thanks to the joy that IS digital scrapbooking, you can create an album in a matter of hours.
Use your time wisely. Either keep the same layout throughout your album and just switch up names and pictures, or rotate a couple different layouts throughout – again just switching the picture and names. If you're extra quick and have lots of time, go ahead and create a different layout for each member of your family.
Then put the pages into some sort of album and have them available during Thanksgiving dinner. It's a perfect time when most of the family is together and there's plenty of time for people to think about what they want to say and to actually write something down.
Or, if you prefer – create the album ahead of time and ask family members for their answers ahead of time. You can then present your Family Gratitude Album at Thanksgiving dinner and everyone will love to read what the other family members appreciate about them. It's your choice. Just make sure you do something!
I think we spend far too much time thinking about other things we're grateful for and forget those closest to us. And we never know when someone might just need those few words of encouragement. This is why I also suggest 'giving' an album to each household.
Share It With The World
When you've got your pages completed, we'd love to see a couple (you can do it before happy words are written about your family members). Remember our gallery and upload your wonderful layouts!