Happy Sunday everyone! I hope that iNSD hasn't worn you out too much yet, because I have a prize to give away, and a contest for you to enter. Yup, it's another edition of Special Request Sunday. Last month we asked you all to share your favorite springtime activity with us for a chance to win. Congratulations to this months winner Brenda who won her selected kit 31 Days Has December.
Please leave us a Help Ticket message with your email address so that we can send you back a coupon to pick up your prize! You can enter your ticket here: https://www.trixiescraps.com/support.
Well, I'm sure with all the fantastic sales on with iNSD this weekend you've all been spending a lot of time checking out what you'd like to snag from the Trixie Scraps store. I'll make this month super easy for all of you. For your chance to win, just leave us a comment on this post telling us which Trixie Scraps kit is at the top of your wishlist, and be sure to include an email address that we can reach you at for your chance to win. One lucky winner will be selected at the beginning of next month.
Good luck!
FREEBIE ALERT!
Trixie Scraps fans, as I'm sure you know National Scrapbooking Day is coming on May 4th. As a special treat for all of our Facebook Fans, we have a freebie available everyday until May 6th. Today's treat is a beautiful quick page made by Scrap Star Carrin using You Matter.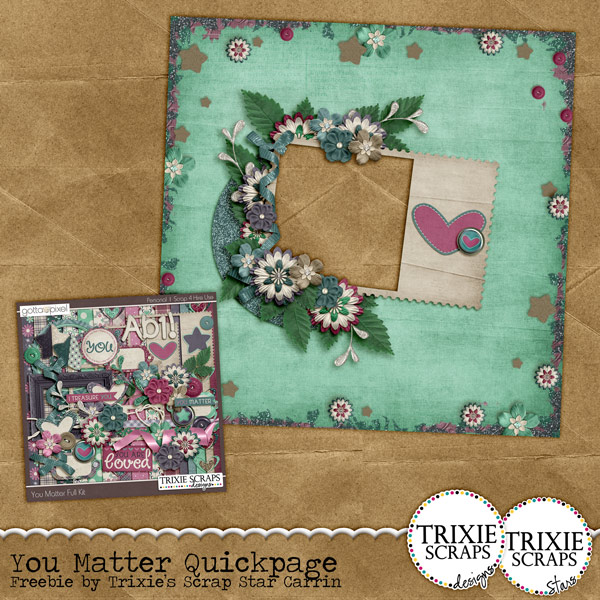 Head on over the the Trixie Scraps Facebook Fan Page to like us, and then click on the FREE DOWNLOAD link to get today's freebie. Be sure to check back each day until May 6 for a new treat.
All Trixie Scraps Designs products can be found in the following online stores:
Trixie Scraps Shop * My Memories * Gotta Pixel * Scrapbook Bytes * Ginger Scraps