Good Wednesday morning all, Shauna here to tell you about our selection for the July Book Club. We have chosen The Friday Night Knitting Club by Kate Jacobs. Here is a flyer with all the details.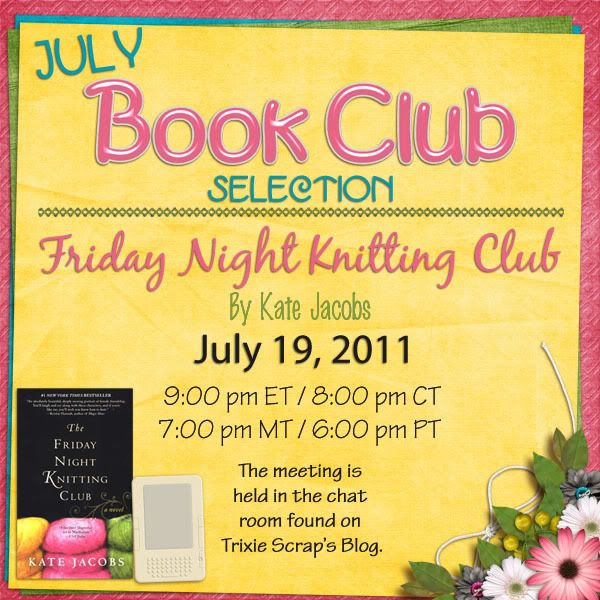 Here is an overview of the book from Putnam Reader's Guide:
Georgia Walker is a single mom and successful New York City entrepreneur whose yarn shop, Walker and Daughter, has become something of a mecca for knitters of all skill levels and dispositions. What begins as a disorganized Friday night gathering of her most loyal customers turns into a regular meeting of minds and hearts, as each woman discovers there's much more to be found at Walker and Daughter than tips on knitting technique.
Just when business is really looking up, the father of Georgia's daughter and a long-forgotten nemesis suddenly resurface and Georgia's orderly world falls to pieces. Soon enough, she learns that she isn't the only Friday Night Knitting Club member who sees it as the only constant in life, and a saving grace at that.

Ok, it's time to beg, borrow or steal (ok no stealing allowed) a copy of The Friday Night Knitting Club and get to reading. I'll see you in the chat room on the 19th. Happy reading all!!!!
All Trixie Scraps Designs products can be found in the following online stores:
Trixie Scraps Shop * Gotta Pixel * Scrapbook Bytes * Funky Playground