Welcome to the Grand Opening of the Trixie Scraps Stars CT blog!!!! We're so excited you've stopped by to visit us today and hope you will continue to do so in the coming weeks and months! The team and I are truly SO excited to be launching this new blog and we hope it will turn into a fun place for you all to hang out, be challenged, be inspired and learn new things!
So, here's a basic rundown of what we'll be doing here on the blog. Of course, from week to week, we're going to try and switch things up here and there to keep it fresh and fun. And, there will be some surprises thrown in now and again, too! But, this will be our basic schedule each month – make sure you come back each day this week as we introduce all our blog topics!
Mondays will alternate between "Make it Hybrid" and "Makeover Monday."
Tuesdays will be "Tips, Trends, and Tutorials" day
Wednesdays, we'll be asking "Who Are You?"
Thursdays will be our challenge day!!
Fridays will be "Feature Friday" showing off my new products each week
Saturdays will be "Special Request" Saturday
And last but certainly not least, every two weeks we'll be hosting "Show-off Sunday!"
So, that's what we're planning! As I said, more details about what we're going to cover will be revealed this week during our grand opening. We really hope this will be a fun, interactive place for you to visit and hope you will do so often!! Please add us to your feed reader, or become a follower of the blog over there on the right hand side. We'd love your comments in the chat box, too – feel free to let us know how we're doing!
And now, on to today's article – since its Thursday, its CHALLENGE DAY!!! And our very first challenge is going to be a template challenge, since I'm the host and its one of my favorite kinds of challenges! So, all you have to do to play along is download the freebie template, make a layout using some Trixie Scraps products (you can use others, too – but we appreciate it if you do include something from my shop, too)! Upload your finished layout to your favorite gallery, then come back here and leave us a comment with a link to your layout and your email address. Next week, we'll pick a winner of the challenge and that person will win a free kit from my store. FUN, right? So, without further ado… here is the template! You can click on the preview or the link below to download. The download includes both a layered PSD file and individual PNG layers for non-Photoshop users. And make sure you read the included "READ ME" file for full instructions!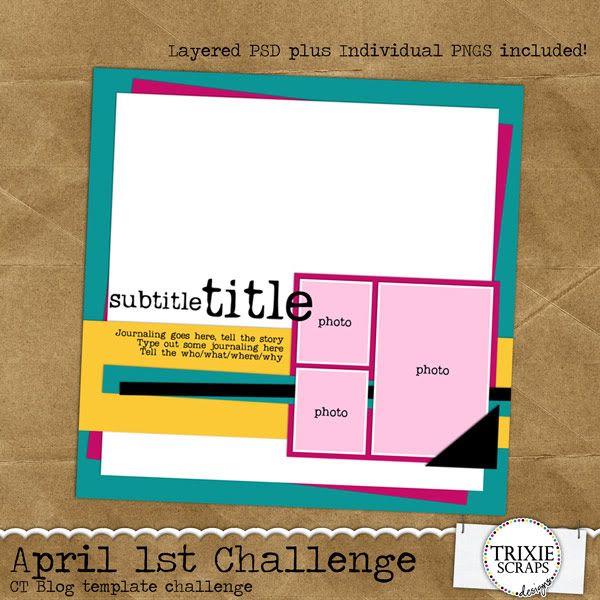 Of course, the team had a blast playing along with this challenge. Here's some inspiration from the girls – FAB layouts, every one of them!!

OK, that's it for today! Again, WELCOME to our new blog! Hope you have fun with our first challenge – can't wait to see your layouts!!! 🙂