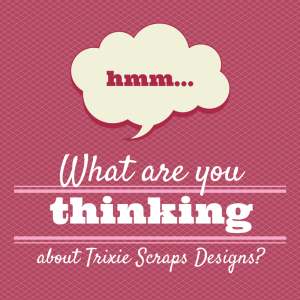 I love hearing what my customers and creative team have to say about my products, my customer service, and more. I'd love it if you want to share your thoughts with me and invite you to submit a review below. Please complete the form below and be honest — your feedback helps me ensure that you will always be satisfied with Trixie Scraps Designs!
By the way, as an extra little incentive, I send a small coupon or freebie to everyone who takes the time to leave me a thorough review. Make sure you include your email address before you submit a review so that I can get in touch with you after the fact. (Note, you need to be a registered user on TrixieScraps.com and you need to be logged in for your review to go through).
Submit a Review below – thank you so much!