Welcome May and a new Buffet Sale at GingerScraps! This month, I've created my first-ever military-themed collection, which was oft-requested by my Creative Team member, Mary Kate, who is herself a military wife. American Heroes covers four branches of the military – the Army, Navy, Air Force and Marines – with just enough red, white and blue thrown in to make it suitable for all your patriotic layouts, too! All of these pieces will be on sale 50% off now through May 5th… that means you can get the kit for just $2 and each of the add-on packs for just $1 each! (Note, the prices increase to $4 for the kit and $2 for the add-on packs on May 6th for the remainder of the month).
Do you know any American Heroes?
Check out this kit – it is loaded with 20 papers, 53 embellishments and a full alpha. I've also broken the kit into two separate packs (just papers or just alpha/embellishments) if either of those would be your preference: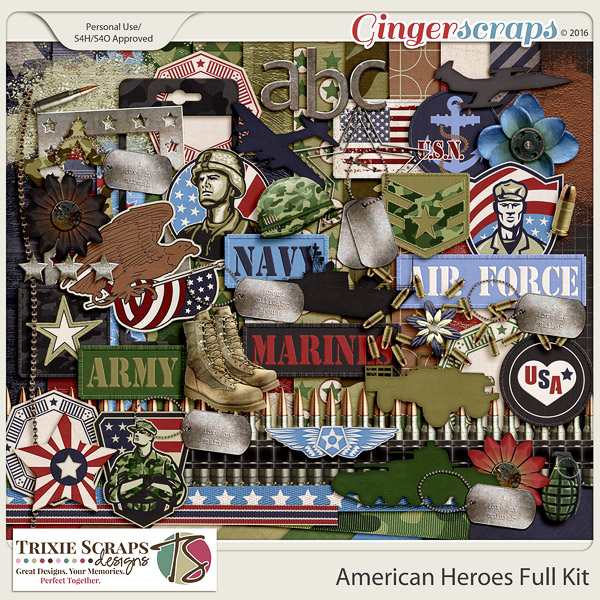 Add-On Packs
In addition to the kit, I have added coordinating cardstock and bonus papers to the collection, plus some useful bonus alphas, adorable wordart for great page titles, a great set of coordinating templates, a 50-piece pack of wordbits (tags and stickers,) beautiful quickpages and a handy set of timeline covers, too!
Creative Team Inspiration
The team and I got busy scrapping some awesome layouts with this collection – here's just a few of them, to inspire you with different ways you could use American Heroes. Thanks for stopping by and reading this post – get excited because iNSD is next weekend! Lots more news to come, stay tuned! — Trixie