Good morning, today we have a Wednesday Wisdom for you! Since it's the month of love, I was searching for a quote to do with love and some photos to go with it. I came across the pictures of my kids' first day of school and remembered that these darlings have yet to be scrapped. I really wish I was one of those scrapbookers that scrap chronologically and is seriously organized, but alas, I am not. My pages are here and there and everywhere!
Wisdom from Dr. Seuss
Well anyway, now seemed to be a good time to whip up a page for at least one of these children. My littlest is beginning to read and we have been reading tons of Dr. Seuss books lately. I found a good school day quote and finally made his first day of kindergarten page (I seriously can't believe my tiny baby boy is in kindergarten and it makes me kinda sad). Here is my big boy on his first day!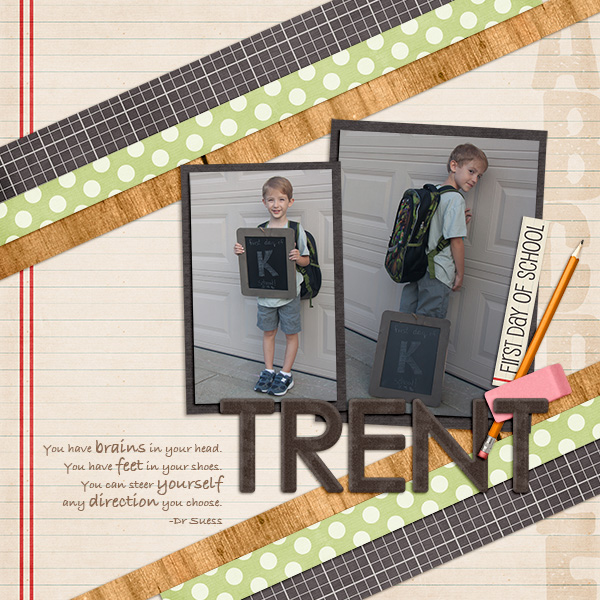 So, our quote for the month is:
You have brains in your head. You have feet in your shoes. You can steer yourself any direction you choose — Dr. Seuss
Dr. Suess is a classic and so many great quotes come from these wonderful books. For this page I used Apples For Teacher, which is one of my favorite school-themed kits. Now, it's your turn! Find some of your own pictures and make a wonderful page or two with wisdom from Dr. Seuss and share them with us here so we can ooh and aah all over them. Thanks for reading and have a fabulous week!