It's that time again… That one day, every four years, where we compensate for the wacky way the Earth spins 'round the sun and we get one whole EXTRA day to spend doing fun things.
Happy Leap Day!
How do you plan to spend your Leap Day this year? If shopping might be on your to-do list, I thought I'd give you a fun little treat this Leap Day – so here's a coupon to my store! Note, it's good today only, and will save you $2.29 on any purchase of $5 or more from my Trixie Scraps shop.
Please limit one coupon per customer and note, this coupon does not apply to my Back to the Vault sale kit or to the Value Bundles category, but everything else is fair game.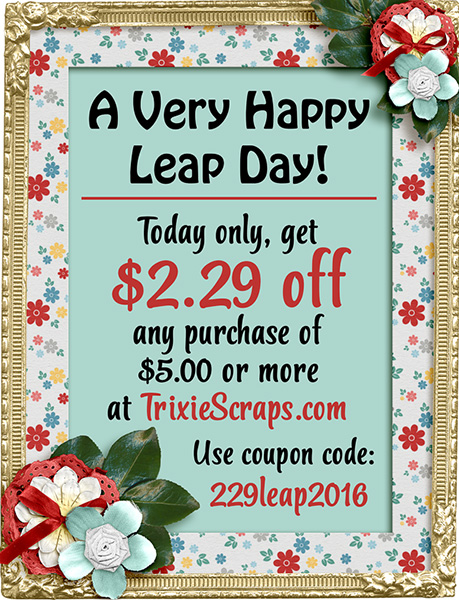 Leap Day Fun
Now, before I go… I thought I might pass on a neat little blog post I found today. Here's 29 fun things you can do today with your kids, with little to no planning involved.
And, just because I think today is super fun and cool (I know, I'm a dork!) here's some interesting facts about Leap Day you might not have known:
It takes the Earth approximately 365.242189 days – or 365 days, 5 hours, 48 minutes, and 45 seconds – to circle once around the Sun. This is called a tropical year. Without an extra day on February 29th, every four years, we would lose nearly six hours every year. If we had no leap day every four years, after 100 years had passed, our calendar would be off by about 24 days!
In Ireland, it was tradition for a woman to propose to a man on February 29th. The custom has been attributed to St. Bridget, who supposedly complained to St. Patrick about women having to wait for men to propose marriage. St. Patrick decided he would give women one day, every four years, to be the asker! Learning this made me smile today because my husband's Irish great-grands were named Patrick and Bridget and they were the first generation in his family to move to the United States.
Amy Adams and Matthew Goode starred in the 2010 romantic comedy "Leap Year" that celebrated this Irish tradition. In the film, Amy Adams' character, Anna, travels to Dublin to ask her boyfriend, Jeremy, to accept her wedding proposal on Leap Day.
The twin cities of Anthony, Texas, and Anthony, New Mexico, are the self-proclaimed Leap Year Capital of the World. They hold a four-day festival each leap year that includes a huge birthday party for all leap year babies.
Famous leap day babies include motivational speaker Tony Robbins, jazz musician Jimmy Dorsey, and actors Dennis Farina and Antonio Sabato Jr. People born on leap day are often called "leaplings" or "leapers."