Good morning everyone and welcome to another Challenge Thursday.
For this weeks challenge we bring you a photo challenge. For this challenge I want you to show me your winter. What does winter look like in your part of the world or what does winter mean to you?
For my family winter blew in this week and we got our first snowfall; up till now we were having temps in 40's-50's and even a few days in the 60's which is very out of the norm. I was not complaining about the higher than normal temps since winter is not my favorite season (I detest being cold), but the snow is pretty as long as you don't have to venture out the front door or drive in the messy streets. My kids on the other hand are tickled for their first snow days from school and getting ready to bundle up to go play in the snow.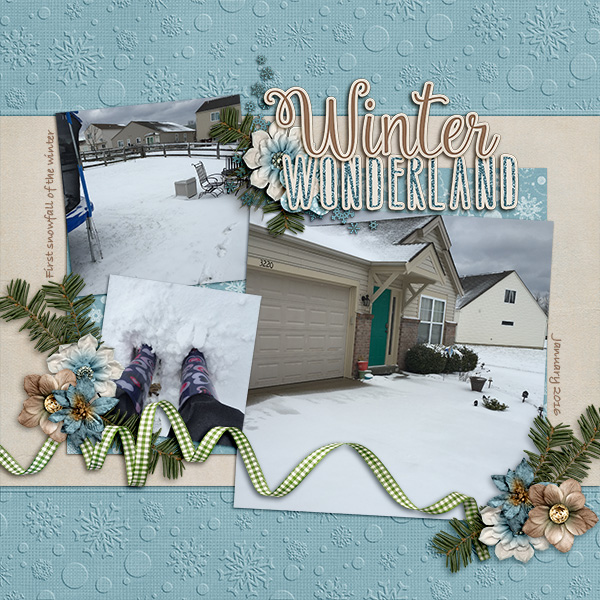 Not to shabby of pictures considering they were with my phone and not the fancy camera I can't figure out how to use, that's a goal for the year. So we didn't get an extraordinary amount of snow, just enough to cancel schools and make morning traffic a bit of a bear. For this layout I used the most recent kit called Home For The Holidays, which is a beautiful Christmas Kit or it can make the perfect winter themed layouts too.
Now make sure you link us up to your winter pictures or layouts, I love checking out everyone's beautiful scenery (I would especially love to see those warm weather winters so I can dream about warmer days to come). Have a fabulous weekend and make sure to come back next week for the next challenge Thursday.