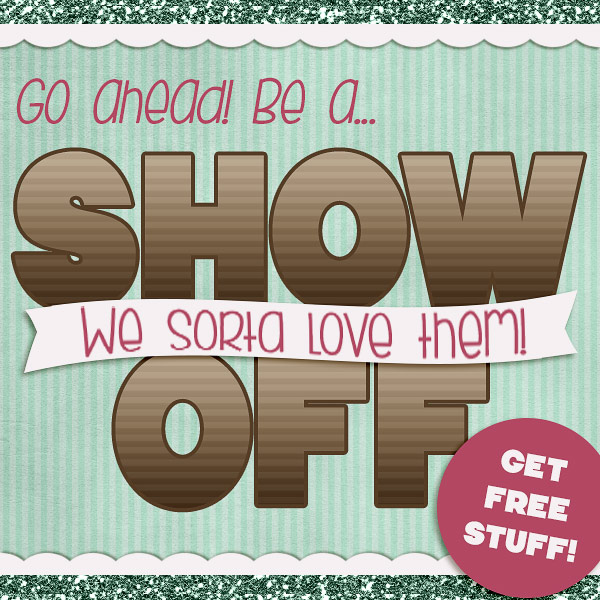 Welcome to Sunday Show Offs, Super Sunday edition! Those of us here in the states are gearing up for the big football game later today. Now, I'm not a football fan, but I do love watching the game for the commercials. My family and I started a new tradition a few years ago where we have a "picky picnic" (aka a smorgasbord of appetizers) in front of the television. Whenever the kids mention the Super Bowl, they always follow it up with "Are we having a picky picnic this year?" They love it!
Now, on with the real reason I'm here…to shower some SUPER LOVE on some of Trixie Scraps' super fans! I browsed around the gallery and found two awesome layouts by two very talented ladies. Take a look!
The Super Sunday Show-Offs
First up is Pretty Packages by rdjrneace (using Presents Everywhere). I love the large photo at the bottom and the smaller, detail photos at the top. The clustering around her title is perfect! I just love that bow at the top of the tree!
Our second show-off is one of our regular posters, basketladyaudrey. This is Ready, Set, Snow! (using Frosted Windowpanes kit and clusters and a template from the Blend with Me vol 2 collection). I can totally feel the boys' anticipation of the big snow storm and love the snowy photos! The wonderful use of the snowflake elements and beautiful clustering really make the layout pop.
The Prize
In honor of Superbowl Sunday, these ladies will be adding the Pigskin Party element clusters to their collection. Congratulations, ladies! Make sure you check your PMs for your code.
Do you want to be a show-off?
Did you read that to the tune of Do You Want to Build a Snowman? 'Cause that's how I typed it!
It's not hard to become a show-off. All you need to do is upload your layout using Trixie Scraps products to the Trixie Scraps Gallery and we'll put it in the next Show Off slideshow! We'll then send you a code via Trixie Scraps Gallery message system for your prize! It's that simple! Make sure you check your messages often, as the prizes do expire! It does take us a week or two to get you your code, so please be patient!
Invite your friends to play along and remember that when you are posting in the Trixie Scraps gallery to make sure 80% of your layout is Trixie Scraps product. Remember, just by posting your layouts in the gallery you can win a free prize. I certainly hope you play along next week. READ HERE to see how to become part of the Sunday Show-Offs and we'll see you again in a couple of weeks!