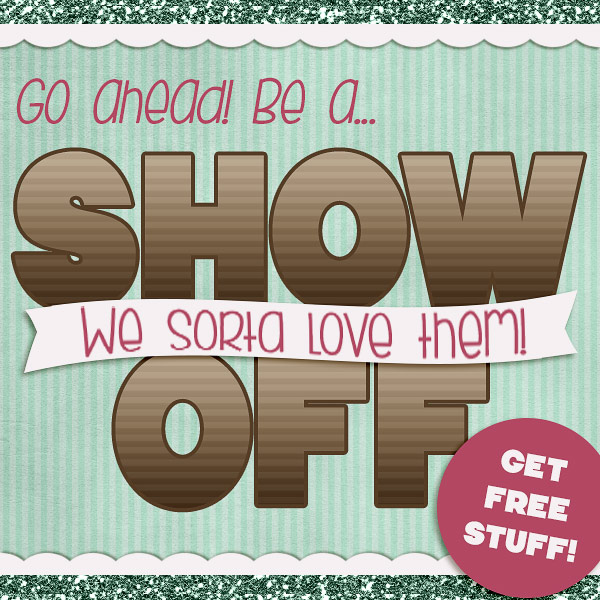 Happy Sunday, Trixie Scraps fans! I'm here today to share with you some layouts posted by YOU in the Trixie Scraps Gallery. That's right…it's Show-Off Sunday!
The Show-offs
We have two layouts to show-off this time, both provided by 3BluEyedBabies.
The first layout is a beauty created with the Change Your Fate collab kit by Trixie Scraps and Britt-ish Designs. I love that 3BluEyedBabies chose to focus on this wonderful piece of artwork at the Merida Meet-n-Greet at Disney World. The clusters really set off the photo.
The second layout uses the Spunky Monkey kit by Trixie Scraps as well as a template that Trixie designed for the Family Game Night mega collab at Ginger Scraps. I love that 3BluEyedBabies was thinking outside of the box for this kit…it seemed like the perfect fit for this monkey party! I also love how she used the blocking on the template to incorporate paper blocks as well as photos.
Our Thanks
Thank you so much, 3BluEyedBabies, for being a fan of Trixie Scraps Designs and submitting your work to the Trixie Scraps Gallery. Just for uploading her layouts, 3BluEyedBabies will be receiving the Apples for Teacher bonus alpha pack. The foam-abet alphas are some of my favorite go-to items from Trixie Scraps and I'm sure there will be 1,001 uses for them! Enjoy!
Do You Wanna Be A Show-Off?
It's not hard to become a show-off. All you gotta do is upload your layout using Trixie Scraps products to the Trixie Scraps Gallery and we'll put it in the next Show Off slideshow! We'll then send you a code via Trixie Scraps Gallery message system for your prize! It's that simple! Make sure you check your messages often, as the prizes do expire! It does take us a week or two to get you your code, so please be patient!
Invite your friends to play along and remember that when you are posting in the Trixie Scraps gallery to make sure 80% of your layout is Trixie Scraps product. Remember, just by posting your layouts in the gallery you can win a free prize. I certainly hope you play along next week. READ HERE to see how to become part of the Sunday Show-Offs and we'll see you again in a couple of weeks!