This week, we're celebrating the time-honored holiday tradition of caroling for $2 Tuesday because Winter Carolers is on sale, along with What's Your Angle Vol 2. Since everyone loves a good deal we also have the add-on Cardstock, Wordart, and Plaid Paper Packs for $1. Oh yeah, you read all that right, great deals right??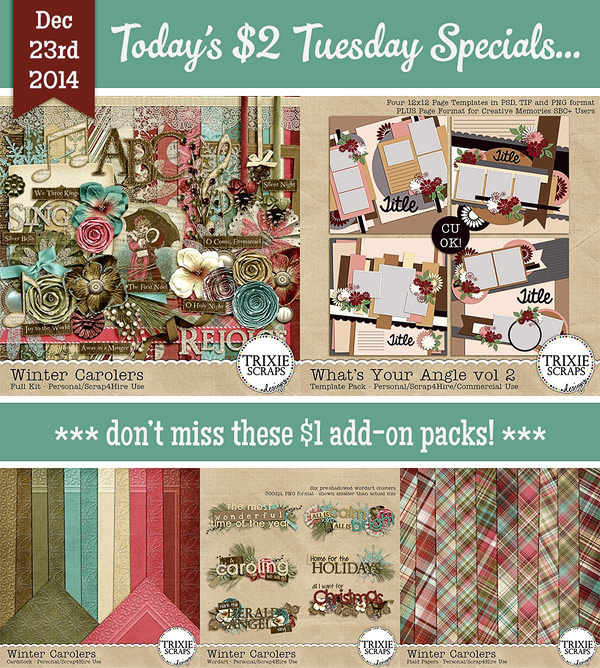 This kit is a perfect Christmas time kit and also just wonderful for general winter time layouts. Also who doesn't love some great template sets! So for some wonderful examples here are some glorious pages from the wonderful Trixie Stars….
First one is by Mary Kate, I just love the wonderful wooden background with the darling clusters around her seasonal picture.
Next is by Stacy. Love this printed background, super glittery title, and who doesn't love the wonderful layering she's done here.
Then we have Shauna. She has some great clustering and fantastic paper layering done on here.
Lastly is another layout by Mary Kate to show how beautifully the kit can be used for some winter pages. Love the big picture with the little accents and beautiful little accents layered  with the pictures. Such a pretty page!
Now to show off the wonderful template pack we have Shilo – love the paper layers and angled photos here!
and Stacey's page here is just plain adorable – I love how she titled and twisted some letters in her title, to go along with the angled orientation of her papers and photos. Just super cute!
So that's it for today's post. Make sure you take some time out of your busy holiday schedule to grab this up and scrap some fantastic pages – maybe you might even go caroling and spread some Christmas cheer! Don't forget you can upload your pages to our gallery and be included in our bi-weekly Show Offs giveaway! Have a wonderful holiday!