Welcome to Challenge Thursday Holiday Photo Edition! With this wonderful holiday season swiftly coming at us, we are going to challenge you to get a photo that shows us your holiday spirit. There are so many different holidays going on at this time of year; we have Christmas, Hanukkah, Kwanzaa, New Years and many more. So grab your cameras and show us which holiday you celebrate in your households and your families spirit.
My house is in full Christmas chaos (and I do mean chaos between shopping for 3 kiddos, shopping for the rest of my family, visiting Santa and school parties for 2 kids, and so on-you feel me here) I'm not even finding time to scrap my photo. Yes, I know, boo!
Anyway here is our tree all decorated up in it's kid organized glory; they had such a fun time doing it but I had to rearrange after they went to bed since the ornaments were all on the bottom half.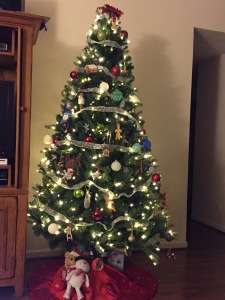 Here is a lovely page that is showing my kids last year on Christmas Eve showing off their new pajamas that they open as part of our family tradition.
So make sure to take a few minutes to link us up to your page or photo of your families holiday spirit. May everyone have a peaceful and wonderful holiday season!!!