Since Halloween just ended, I had a wild kind of idea for our Masters Monday today.
A lot of us either have kids that dress up as superheroes or we dress as superheroes ourselves for Halloween. A couple of years ago I dressed up as one of my favorite superheroes, Rogue. It was this picture that brought me to today's Masters Monday topic. You can only use a tradtional Halloween themed kit for so many layouts before it gets old.
Using Color Schemes In Your Layouts
Superheroes always have a set color scheme. They usually consist of 2 or 3 colors and rarely do you see other colors on them when they are costumed. If you think about the big named superheroes, you can narrow down the top 2 colors they use. So today's idea is to scrap a layout using a color scheme.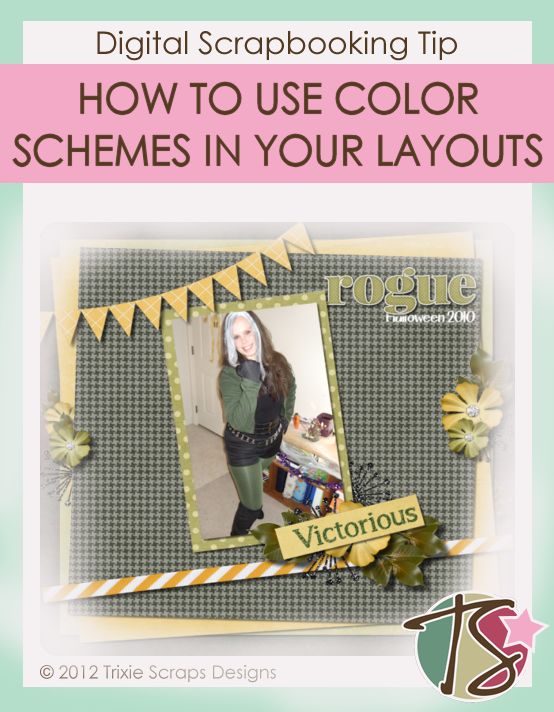 My Layout
For my layout I went with the character Rogue. There's been a few adaptations for Rogue through the years, but the one I wanted to focus on used the colors, black, green and yellow. In my layout I used only those three colors (okay, there was a bit of white too).  I accomplished this using one kit for the majority of my layout, though depending on the colors you use, you may need to mix and match kits. As long as you're staying true to the color scheme of the hero, etc. that you are working with – it'll work out.
As you can see, I stayed true to the black, yellow and green. Because my costume had no yellow in it, I used yellow for mainly accent pieces of my layout. Black and green were the colors I focused on so that it coordinated with my costume.
I used the kit A Life That's Good and a glitter paper from Just One Kiss, as well as an element from Triumphant to create this color schemed layout.
Take a chance and create a layout using a color scheme with 2 or 3 colors. I'd love to see them. Share them in our Trixie Scraps gallery and you just may find a new way to scrap your Halloween photos without the need for traditional kits.