It's Tuesday again and that means a new Tuesday special!!!  Today you can pick up Remembering You kit and the Collage Collectors Vol 1 template pack for just $2 each and the Coordinating QuickPages, Plaids and Ginghams and WordArt for just $1 each.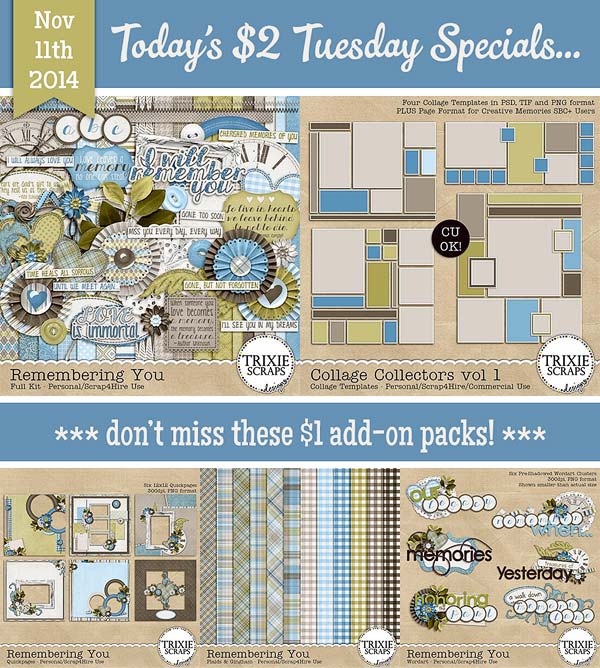 Let's take a look at what the Scrap Stars have done with these products:
I love this page by Scrap Star Shilo. The black and white photos really stand out against the soft blues, greens and grays of this kit. The limited use of elements really keeps the focus on the photos, and the stitching is a subtle but beautiful touch.
Scrap Star Shauna has made great use of the white space on her layout.  I love the strips of paper behind her photo, a few beautiful clusters, and again, that beautiful stitching. The single, large photo of her niece and nephews stands out beautifully, and she still has plenty of space to do some journaling.
I loved how the blues in this kit worked with the blues in my photos. I'm a huge fan of Trixie's plaid papers so I, of course, had to sneak them in as much as possible. I also love her paper 'flowers' – they let me add elements and texture with out adding a flowery look to my boy pages (I'm fussy that way – lol).
Last, but not least, I was able to find a page that uses BOTH today's featured kit AND template pack! We saw Shauna's nieces and nephews all grown up above and now we get to see them as youngsters spending good times with their Grandpa. I'm sure these photos hold special memories for all of them, and it's so special to see them all together.
These special prices are only available today, so if you'd like to add these to your digital stash, don't delay!