Welcome to another Master's Monday here at the Trixie blog. I hope you all had a great weekend and that your Monday is off to a great start.
Normally the word comparision infers all sorts of negativity in me, but today we're using this word in the positive.
Today's Masters Monday is all about using Comparisons In Your Layouts.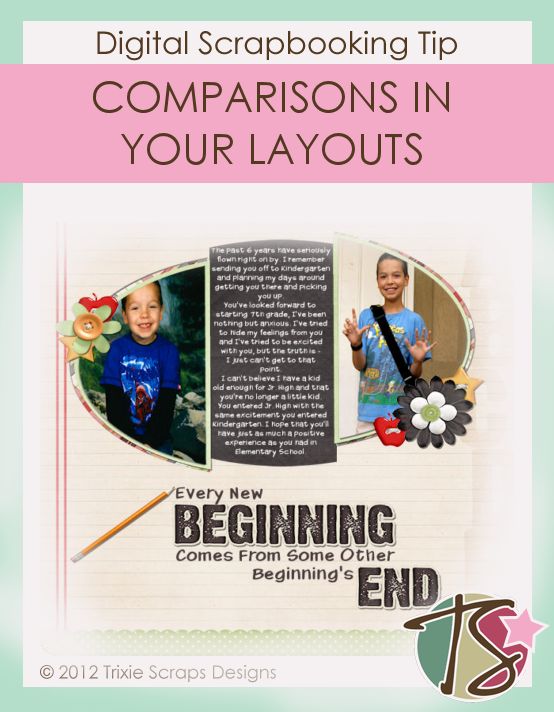 With the new school year upon us, the first comparison layout I thought about is the comparision between school years. Many people like to do a start of the year photo and a last day of school photo. Why not scrap them on the same page.
Another school type comparison page you can do is when your child goes to a new school. A couple years ago, my son started middle school. I created a page comparing a picture from his Kindergarten year to his first day in middle school.
The next comparison has to do with children and more specifically little kids. Babies change so quickly in the first few months and continue to grow quickly the first few years. Create pages that tell those stories. A couple other Stars and I have created layouts showing this.
By Jennifer

By Me

How about a special relationship that has lasted through the years. Quite a lot of us have pages showing this.
By Stacey

By MK

By Me

How about showing different relationships on one page? Stacy did this with her page.
By Stacy

Helen compares how her family has grown with her layout.
Another comparison layout that's a good one to have in your books are before and afters in and around your home. Jenny shows us this with her layout.
The list doesn't have to end there. There are some other options that came to my mind and though I don't have any examples, I'm sure you can all use your creative skill and create them for us all to see and then you can share them in our gallery.
Try creating a layout comparing then and now photos. For instance, I once took a photo of my grandparents from one year and put it on a layout with them from many years later. How about doing this with a photo of what was happening with your life 10 years ago and comparing that with a photo from now.
How about comparing your life with that of your mother of father when they were your age. I did this one year for my mom for Mother's Day and it was interesting to see what the similarities were and what the differences were.
If you have children in sports or dance, why not compare their first year to now – or even put them all on one page together?
If you're married – compare the way you and your spouse grew up.
There are so many different comparison pages you can make. It may not seem very exciting for you to look at now, but years from now others will get a kick out of these types of pages.
So go crazy. Get busy making those comparison layouts and share them with us.