Happy Monday, Trixie fans new and old. I hope you're all having a nice day.
As manager of the Trixie Scraps blog, I've noticed that there may be some of you that are missing out on what our blog has to offer. Some of you may be new and some things older fans may not have noticed. So today I'm going to tell you how to get more from our blog and what happens each day.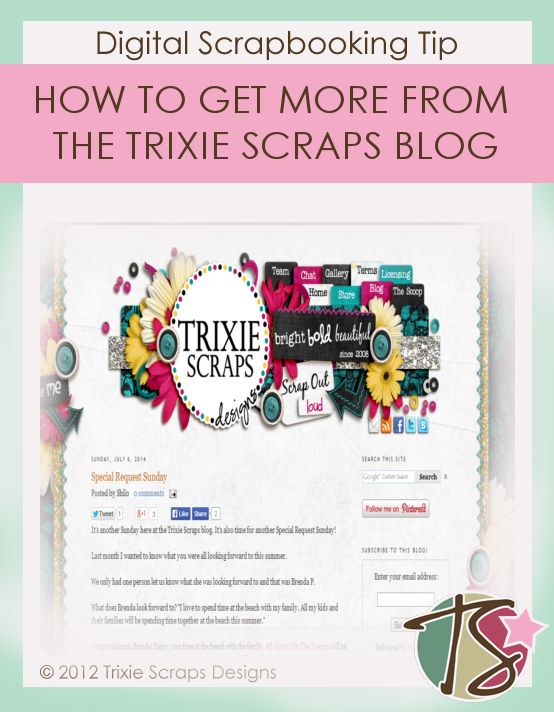 We'll start with Sundays. We have three different posts that happen on Sundays. Towards the beginning of the month we have what's called Special Request Sunday. This is your chance to win a FREE kit of your choice. Did you read that? FREE! All you have to do is answer the question we ask you by commenting on the post. The questions aren't difficult and are usually pretty fun.
Our next Sunday post takes place every other Sunday. We call this Show-Off Sunday. With Show-Off Sunday you get an add-on item just for participating. You participate by uploading a layout to the gallery. We then take each of the layouts submitted in that 2 week period and put them in a slide-show and if you've submitted a layout it goes into the slideshow and you have an add-on item, just like that. Of course, each layout needs to have been made using at least 80% Trixie Scraps product.
The mid-month Sunday post is called Sentiment Sunday. This is a post where one of our Stars chooses a one-word Sentiment and scraps a page all about it. We also challenge you to do the same. Some of the greatest layouts come from this post.
On Mondays we have Master's Monday. This is the day we share tips, tricks and tutorials. Some are for beginners and some are for the more advanced scrappers, but we try to get something for everyone. We also have a few different programs that each of us use, so you may learn different tricks with your programs that you may not have known work. Got a question or something you just can't quite figure out? Shoot us a message and someone will try to walk you through it.
Tuesdays are the days for deals. We call them Take $2 Tuesday. Each Tuesday Trixie puts a full kit on sale for $2. Coordinating packs for the kit are only $1 and we've started puting template packs up for only $2 as well. Great time to buy some of the older kits in the store.
Wednesday are our Wrap-Up days. This is a great day to review the posts made during the previous week. If you're short on time, but want to know what happened on the blog – this is where you look.
Thursdays are our challenge days. Each week is a different type of challenge (template, photo, word, etc.) designed to help you get scrapping. If you're at a loss for inspiration – complete our challenges. You'll also then have a completed layout that you can submit to the gallery.
The first Friday of each month is my favorite post. This is the post that font lovers, like me will love. Each month one of our Stars chooses a favorite font and showcases it on a layout. This is a great way to build your font collection without searching the web.
Finally, our Saturday posts. We call them Saturday With The Stars. We use this day to showcase new kits and what our Stars have created using it. When there's not a new kit, we like to breathe new life into old kits by showing off the layouts our wonderful Stars create.
I hope to see more of your wonderful layouts in the gallery and we'd love to see more of you commenting on the blog. Remember, there's a few chances to win prizes just for participating.
All Trixie Scraps Designs products can be found in the following online stores:
Trixie Scraps Shop * My Memories * Ginger Scraps