Happy Wednesday all, can you believe it is August already? I don't know about where you're at, but it is melting hot here in Texas, so I find myself staying inside and doing one my favorite things…reading. I love to read, and this month we are reading a wonderful book by Jean Kwok called Girl in Translation. I've just started it, but some of the other stars have already finished it and say it is great.
The flyer has all the important info on it and below that are some reviews about the book to peak your interest.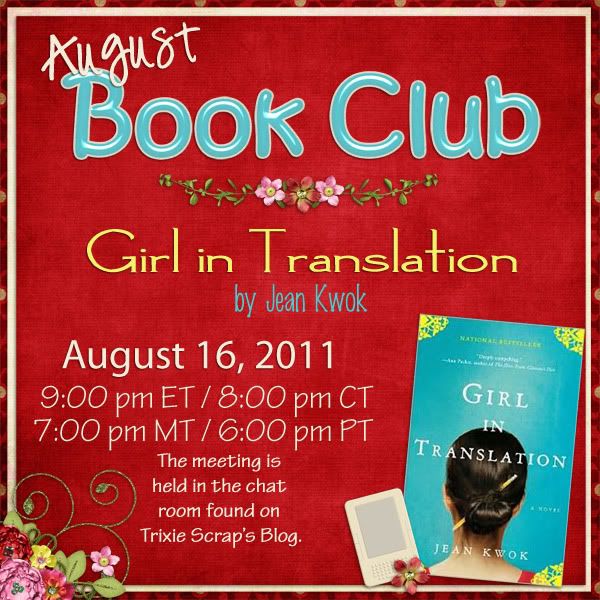 From Barnes & Noble
Kimberly Chang is a brilliant, dirt-poor sixth grader, just off the boat from Hong Kong but determined to make it in America. She and her mother arrive planning to live with family on Staten Island, but they're forced into a roach-infested tenement in one of the worst neighborhoods in Brooklyn. Kimberly spends her days trying to fit in at school, where she can barely communicate in English but commands perfect scores in math and science; after school, she pulls second shift helping her mother at a Chinatown sweatshop.


Drawing on her own experience in relocation, Kwok weaves a modern immigrant tale with a twist. Overcoming her many hardships, Kimberly learns to excel in both of her worlds. At the factory, she becomes the fastest skirt bagger and meets the love of her life; at school, she scales the heights of academic excellence and begins to move with the popular crowd. But as these two worlds progress on a collision course, Kimberly is forced to make a wrenching choice. Girl in Translation is a gripping, poignant story of perseverance and success against all odds.
Julie Otsuka

It is impossible not to fall under the spell of Girl in Translation's tough, plucky narrator as she struggles to make a place for herself in America. Kwok is a natural storyteller who eloquently captures the difficulty of living in two worlds, and the quiet sadness of never feeling quite at home in either. This is an altogether captivating debut shot through with moments of humor and grace. (Julie Otsuka, author of When the Emperor Was Divine)
Brunonia Barry

A journey into a world that would otherwise be veiled, Girl in Translation contrasts both sacrifice and accomplishment in the most satisfying of ways. Kwok's vibrant prose makes us live Kimberly's life almost as if it were our own. (Brunonia Barry, author of The Lace Reader)
Patricia Wood

Utterly compelling, grabs you from the first page to the last. It's about people uprooted, taken advantage of, and triumphing in a foreign land. It's a story about the American dream which serves to remind us not to take lightly what we have. The story of Kimberly Chang is not one you will soon forget. This is a book you will press into a friend's hand and urge them to read. I urge you to read it! (Patricia Wood, author of The Lottery)
Min Jin Lee

A moving coming of age story, reminiscent of A Tree Grows in Brooklyn. The possibility of Kimberly Chang's extraordinary struggle and achievement is what makes America a great nation—generous, forgiving and full of hope. Kwok perfectly captures the voice and perspective of a young immigrant, and the result is a powerful work about love, sacrifice and faith. (Min Jin Lee, author of the bestselling Free Food for Millionaires)
I hope to see at our meeting!!!!!



All Trixie Scraps Designs products can be found in the following online stores:

Trixie Scraps Shop * My Memories * Gotta Pixel * Scrapbook Bytes * Funky Playground