Hi all, have you picked up "The Friday Night Knitting Club" by Kate Jacobs? It is our selection for the July book club and I just finished it. A really good read, perfect for summer. It didn't end like I expected, and it made me cry, but it was still good.

Here are some reviews to peak your interest.

Between running her Manhattan yarn shop, Walker & Daughter, and raising her 12-year-old biracial daughter, Dakota, Georgia Walker has plenty on her plate in Jacobs's debut novel. But when Dakota's father reappears and a former friend contacts Georgia, Georgia's orderly existence begins to unravel. Her support system is her staff and the knitting club that meets at her store every Friday night, though each person has dramas of her own brewing. Jacobs surveys the knitters' histories, and the novel's pace crawls as the novel lurches between past and present, the latter largely occupied by munching on baked goods, sipping coffee and watching the knitters size each other up. Club members' troubles don't intersect so much as build on common themes of domestic woes and betrayal. It takes a while, but when Jacobs, who worked at Redbook and Working Woman, hits her storytelling stride, poignant twists propel the plot and help the pacing find a pleasant rhythm.
— Publishers Weekly
"The book's great-worth reading now."
— Glamour
"If you are looking for an inviting group of gals to spend a few winter evenings with, pull up your afghan and snuggle in with The Friday Night Knitting Club…[It] makes you yearn for yarn, even if you're not a knitter."
— USA Today
"Impossible to put down."
— Booklist
"Knitters will enjoy seeing the healing power of stitching put into words. Its simplicity and soothing repetition leave room for conversation, laughter, revelations and friendship-just like the beauty shop in Steel Magnolias."
— Detroit Free-Press

Below is a flyer with the details on our meeting. I hope you get a copy and join us!!!!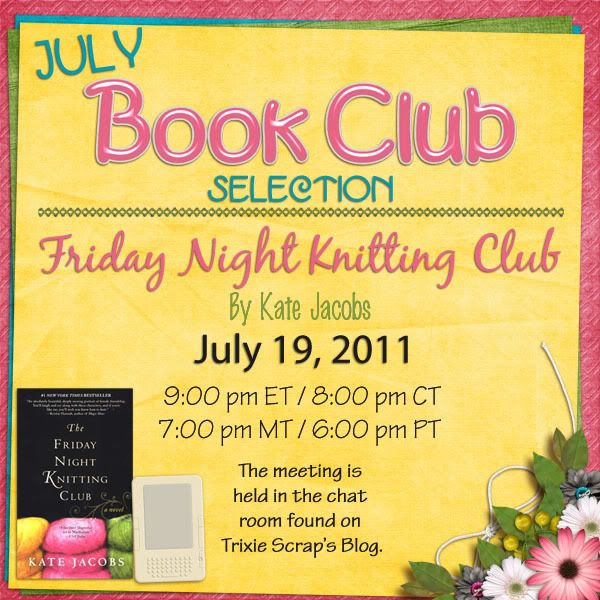 All Trixie Scraps Designs products can be found in the following online stores:
Trixie Scraps Shop * Gotta Pixel * Scrapbook Bytes * Funky Playground