Happy Wednesday all, Shauna here to remind you about our book club meeting next week. We are reading a great book by Mary Ann Shaffer and Annie Barrows called The Guernsey Literary and Potato Peel Pie Society. I've just started it and so far I really like it. Here is all of the info on date and time, etc.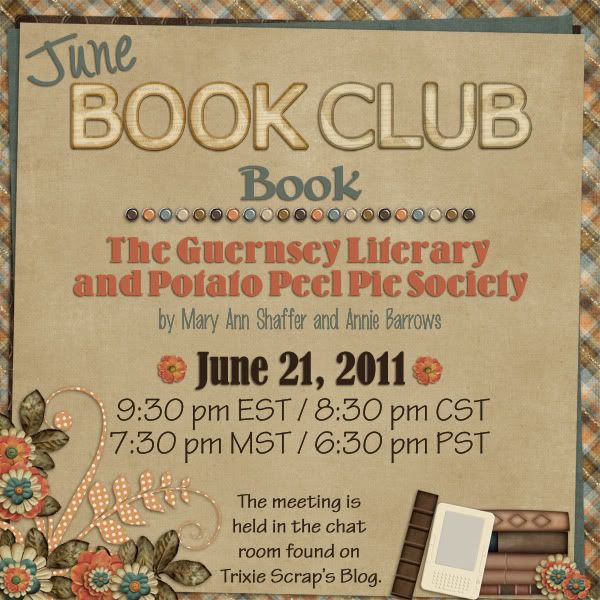 Here is the Reader's Guide synopsis of the book.
Celebrating literature, love, and the power of the human spirit, The Guernsey Literary and Potato Peel Pie Society is the story of an English author living in the shadow of World War II—and embarking on a writing project that will dramatically change her life. Unfolding in a series of letters, this enchanting novel introduces readers to the indomitable Juliet Ashton. Through Juliet's correspondence with her publisher, best friend, and an absorbing cast of characters, readers discover that despite the personal losses she suffered in the Blitz, and author tours sometimes marked by mishaps, nothing can quell her enthusiasm for the written word. One day, she begins a different sort of correspondence, responding to a man who found her name on the flyleaf of a cherished secondhand book. He tells her that his name is Dawsey Adams, a native resident of Guernsey, one of the Channel Islands recently liberated from Nazi occupation. Soon Juliet is drawn into Dawsey's remarkable circle of friends, courageous men and women who formed the Guernsey Literary and Potato Peel Pie Society as a cover to protect them from the Germans. With their appetite for good books, and their determination to honor the island's haunting recent history, this is a community that opens Juliet's heart and mind in ways she could never have imagined.

I hope to see at our meeting!!!!!
All Trixie Scraps Designs products can be found in the following online stores:
Trixie Scraps Shop * Gotta Pixel * Scrapbook Bytes * Funky Playground