Happy iNSD! What a crazy, fun weekend we're going to have! I've got lots of fun events going on this weekend and some fabulous new releases to tell you about. For starters, I'm having a sale in my shops for both my personal products and my North Meets South Studios products. Here's the details (also… you might want to check out the message bar on the bottom of the blog for an EXTRA special coupon to save you even more money!):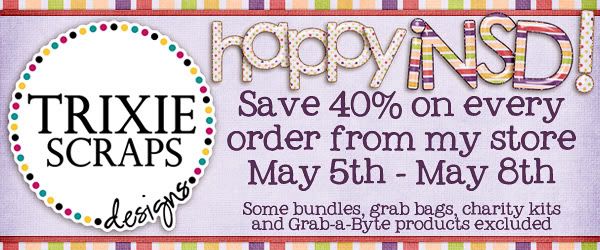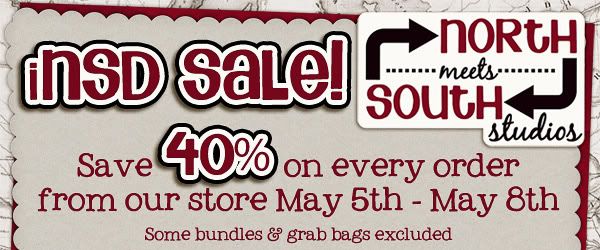 Not only will my existing products be on sale, but I've got some fun new products to show you this weekend! Let's start with my iNSD Grab Bag. This Grab Bag includes 5 products for ONLY $5! This deal only lasts until May 12, so make sure you jump on it soon! The contents of the bag are fully revealed in each of my shops, so there are no surprises!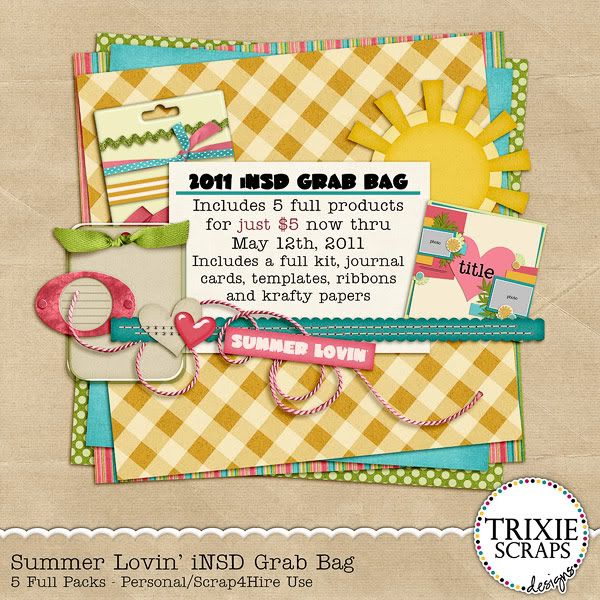 You can nab it at Trixie Scraps * Gotta Pixel * Scrapbook Bytes * Funky Playground
I'm also releasing a CU Collab Grab Bag as part of North Meets South Studios. This Grab Bag includes 6 CU products for only $7 just for iNSD weekend. If you're a designer, you definitely need this bag, but it's great for scrapbookers, too!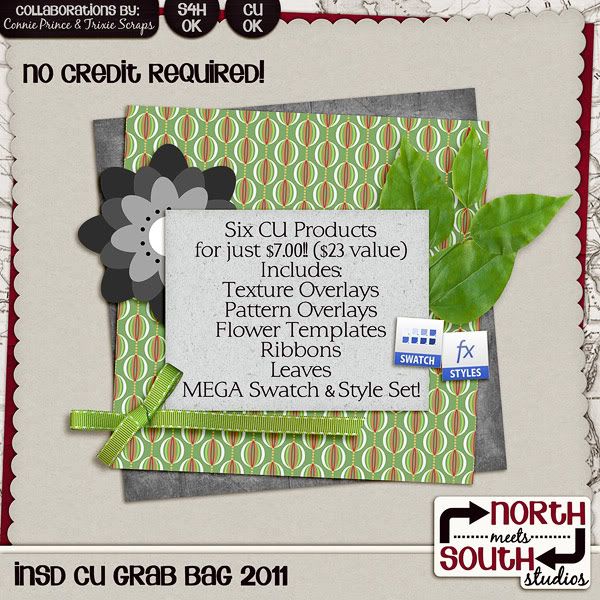 This Grab Bag is available at Trixie Scraps * Gotta Pixel * Scrapbook Bytes * Funky Playground
Next up!! I've participated in a collab bundle that will be at Funky Playground exclusively through May. It's a $35 value for $6 but only for May 5th – May 8th for iNSD weekend. On May 9th, the price will double to $12 and will stay that price through the end of May. After that, the collab bundle will be broken up and each designer will offer their own kit separately. Make sure you get your hands on this quickly while the price is right!
All the kits in this bundle are so fun, here's a peek at them all together:
My portion of this bundle focuses on the young, early years of life and it's a bright, fun, kid-centric kit. Here's a closer look at my kit – that collab bundle really is a steal, so don't miss it!
As if that wasn't all enough, in celebration of iNSD, we've moved the Grab a Byte sale up a couple days this month, so you can get your hands on my Grab a Byte goodies now! This month, I put together Fishy Friends, a great kit for all you Disney fans out there! It's also great for snorkeling and scuba photos, beach/pool/swimming photos, aquarium trips and MORE! I have five pieces available for just $1/piece only at Scrapbook Bytes through the end of next week. Have a look at the individual pieces:
Fishy Friends Patterned Papers
Fishy Friends Element Pack
Fishy Friends Cardstock
Fishy Friends Page Starters
Fishy Friends CU Styles
And finally… last but not least among my new releases is the May Templatetopia grab bag for North Meets South Studios. This mega pack features 4 template packs, 2 each from Connie Prince and myself. That's 16 templates for the price of just one pack – it's an amazing price and it's only available through the end of this month.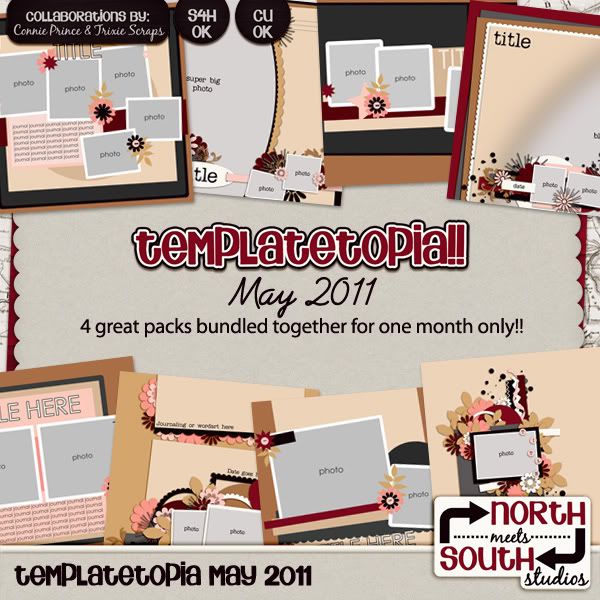 Available at Trixie Scraps * Gotta Pixel * Scrapbook Bytes * Funky Playground
WHEW!! That was a lot of designing!! Now, it wouldn't be iNSD without specials events! I've got a variety of fun going on all around my different stores in digiland. Each store has their own fun planned, so check it out!
Here's what's going on at Gotta Pixel: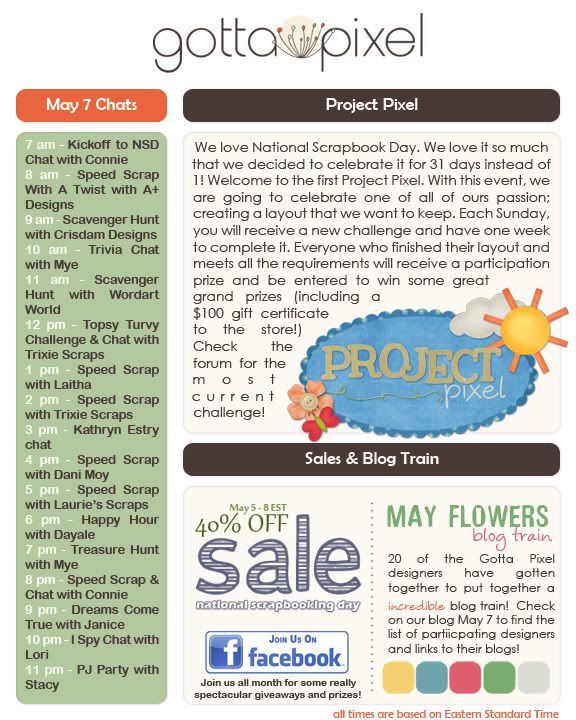 Scrapbook Bytes has all sorts of things going on, too: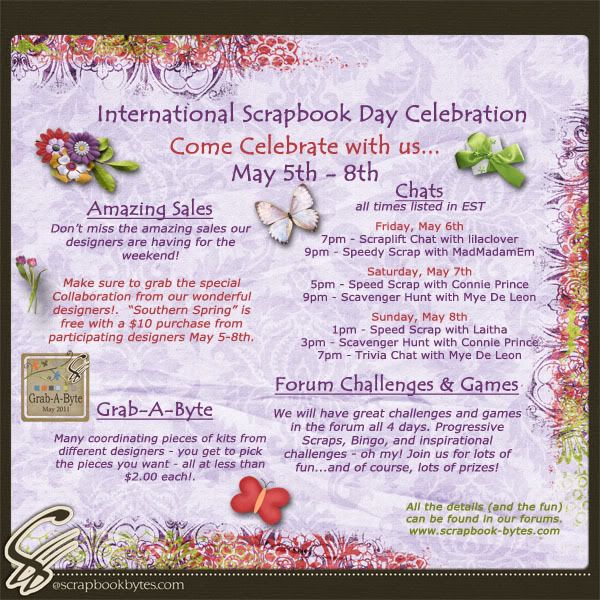 While you're at SBB today, stop in and play along with my Progressive Challenge! Hope to see you there and HAPPY iNSD!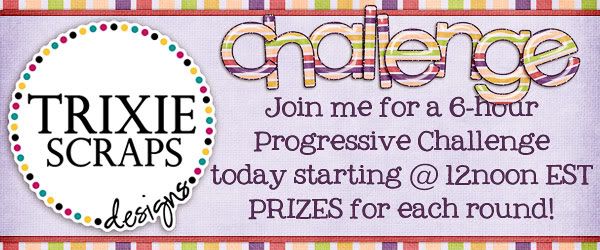 And now, I'm off to SPEED SCRAP!! I'm hosting the next Speed Scrap @ Gotta Pixel at 2pm – please come join me! And make sure to watch this space and my Facebook page all weekend long for special freebies and coupons, too! Have a great, great day! ** Trixie **
All Trixie Scraps Designs products can be found in the following online stores:
Trixie Scraps Shop * Gotta Pixel * Scrapbook Bytes * Funky Playground