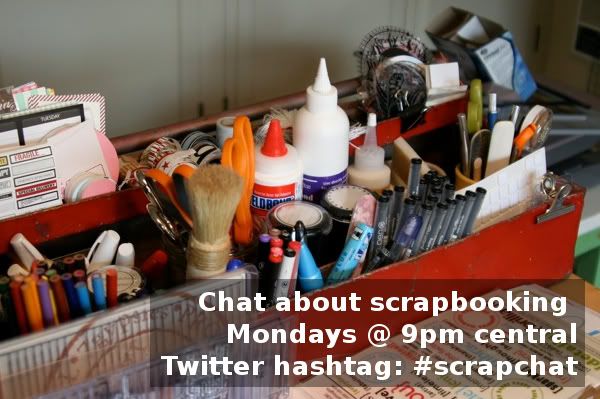 Hi everyone!! Just a quick post to let you know that I'm sponsoring the first-ever Simple Scrapper Twitter "scrapchat" tonight at 9pm CST!! I hope you will attend. Tonight's topic of discussion will be "finding time to scrapbook" and its sure to be a lot of fun! The best way to follow along is by logging in with your twitter account info on TweetChat! The party starts here at 9pm CST!
What's a #scrapchat, you ask? Well, its like a virtual girls' night out for scrapbookers, all conducted via Twitter messages. Don't have Twitter? It's EASY to sign up and its free! Even if you don't plan to tweet regularly, you can sign up for an account quickly and easily so that you can follow along with these fun #scrapchats that Simple Scrapper will be hosting each week on Monday nights.
You'll receive great scrapbooking hints and tips, discounts on supplies and more! Plus, its sure to be a lot of fun! Check out this post on the Simple Scrapper blog for more information – and be sure to join us tonight at 9pm CST!! I'll be posting a special discount code just for those who attend – you won't want to miss it!
Photo by Ali Edwards